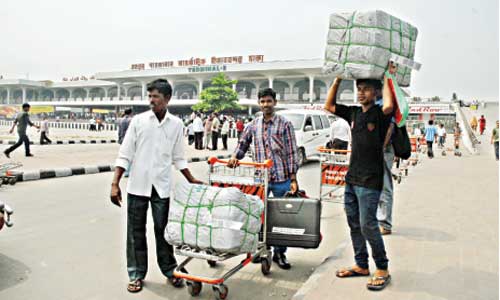 The use of remittance in the unproductive sector continued with only 25.33 per cent of the total remittance received in 2015 was invested in various sectors by the remittance receiving households, revealed a survey conducted by the Bangladesh Bureau of Statistics.
Bangladesh received remittance worth $15.80 billion in 2015 while on an average each remittance receiving households got Tk 3,02,183 of which Tk 2,89,493 in cash and Tk 12,690 in valuables, showed the study.
Planning minister AHM Mustafa Kamal unveiled the survey report 'Investment from Remittance (SIR) 2016' at the National Economic Council auditorium at Sher-e-Bangla Nagar in the city on Thursday.
The report said while 25.33 per cent of total remittance was invested in various sectors by the households, the lion's share of the investment went to the construction sector.
A significant share of total remittance, 10.87 per cent, was used for repaying loans that were borrowed to meet the expenditure for going abroad.
Of the total remittance received, a substantial portion, 9.08 per cent, was used for land purchase.
In case of investment, the lion's share (74.78 per cent) of the total remittance was invested in construction or reconstruction of mud or bamboo houses, semi-brick-built or brick-built houses, buildings, flats, boundary walls and personal roads.
Investments in all other sectors were very minor that varied from 1 to 7 per cent.
BBS officials told New Age that although remittance helped expatriates' family at home enjoy better livelihood in respect of food, clothing, housing, education, health and social spending, bleak investment pattern of remittance receiving households remained similar in last two years.
At the report launching programme, the planning minister, however, said that the government was planning to take projects so that the investment of remittance went to the mainstream sectors.
'Even if it is not possible to take projects across the country, we will take cluster-
based projects to that the expatriate can make investment,' he said.
Kamal said that at least 12 per cent of remittance came through money laundering out of non-channel 22 per cent which should be stopped. He said 78 per cent of total remittance came though proper channel like bank, western union, and also bkash accounts.
The planning minister said there is a huge prospect of remittance to strengthen economy of Bangladesh.
The BBS study showed less than half of the total remittance receiving households or 40.71 per cent reported that they saved part of the remittance they received in 2015, while the majority (59.29 per cent) reported that they did not save any amount from the remittance.
Of the total remittance, 8.40 per cent was saved in various forms by the remittance receiving households.
Banks were the biggest custodians of savings made out of remittances. Most of the savers kept their money with banks in different forms such as savings account (49.86 per cent), DPS/SDPS (11.86 per cent), fixed deposit (7.24 per cent), and purchase of savings bond (5.31 per cent). Banks were appeared as the main destination for savings in all divisions as well.
The characteristic of the remittance receiving households shows that more than half (51.78 per cent) are female-headed households compared to only 15.58 per cent female heads in general households.
Only 2.23 per cent remittance receiving households were landless compared to 9.58 per cent landless households for all households. In case of divisions, these figures were also found quite low, that varied between 0.39 per cent (the minimum in Sylhet) to 3.37 per cent (the maximum in Dhaka).
Most of the migrant workers are males (97.38 per cent), and of them more than 54.90 per cent are below 35 years. In case of females, 55.11 per cent are below 35.
Nearly three-fourth of the migrant workers surveyed are staying abroad for less than 10 years which ranges from less than one year to less than 10 years with the highest 33.16 per cent staying between five and less than 10 years.
Occupation of the migrant workers varies widely among the regions where they work. In the Middle East countries and Asian countries, they are mostly engaged in job or labour. However, in some countries like South Africa and Other Middle East Countries (OMEC), they do some business also.
The majority of the migrants are less educated while insignificant portion of them have attained higher education. The highest, 63.89 per cent, are educated lower than SSC level and only 2.58 per cent have obtained graduation degree.
The report said at present there are almost a total of 8.6 million Bangladesh migrants who are spread over the world in different countries. The Middle East appears as the main destination of the expatriates. Among the top five destinations for Bangladeshi expatriates, Saudi Arabia scores the top with 27.44 per cent followed by the United Arab Emirates with 23.53 per cent, Oman with 11.62 per cent, Malaysia with 7.64 per cent, and Singapore with 6.20 per cent.
State minister for finance and planning MA Mannan, Statistics and Informatics Division secretary KM Mozammel Haque and BBS director general Mohammad Abdul Wazaed also spoke at the programme.
Economic Census 2013 project director Md Dilder Hossein made a power-point presentation on the report.
Source: New Age