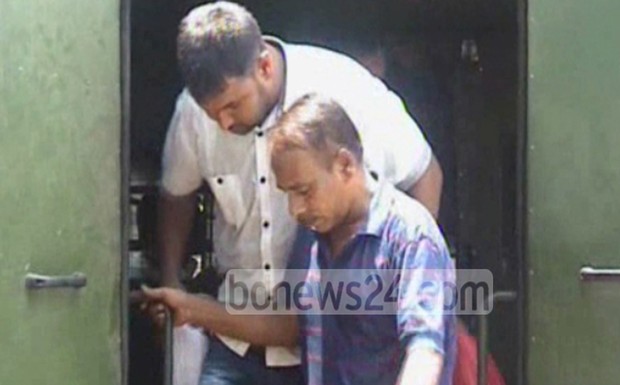 Narayanganj's multiple murder accused Nur Hossain was arrested from Indraprastha Apartment in Baguihati near Kolkata's Netaji Subhas international airport — a high rise building from which top criminal Subrata Bain had been arrested in 2012.
"This place looks like having a strong connection with the Bangladesh underworld," said a top Kolkata police official.

"Bain was picked up from this apartment block two years ago and charged with dealing in fake currency, for possession of illegal weapons and illegal trespass into India," the official told bdnews24.com.

Bain had been arrested in Nepal before but had managed to escape from a prison there.

An Intelligence Bureau official said that they had reports about several top Bangladesh criminals like Khandkhar Islam Joy, Picchi Hannan and Zafar Manik have stayed at Indraprastha apartments.

"But whenever we passed information about these criminals to Kolkata police, they appeared reluctant to go after these criminals holed up in this apartment. We had reports that some Kolkata police officers actually used them as source to track fake currency rackets," the IB official said.

The official however said some of these criminals from Bangladesh may have political connections.


Bangladesh has for long been asking India to crack down against criminals from their country who have made Kolkata a happy hunting grounds.

"We have done our bit tracking these criminals down to the extent possible but law and order is a state subject and if the state or city police are not keen to crack down against these Bangladesh criminals, we can't do very much," the IB official said.

But he said new Indian home minister Rajnath Singh has been given a detailed briefing on this issue and also how some top Jamaat leaders had found illegal shelter in Kolkata.

"He may take this up rather strongly with the West Bengal government," the official said.

Meanwhile, Kolkata police has not yet tracked down Seema Singh, the landlady of the apartment 503 at Indraprastha high-rise at Baguihati, from where Nur Hossain was arrested with two of his accomplices Obaidur Rahman and Sumon Khan.


File Photo
Seema Singh usually lives in another flat with her husband in Garia in south Kolkata and rents out the one at Indraprastha to 'outsiders, says security guards at Indraprastha.

Both Rahman and Khan also hail from Narayanganj, like Nur Hossain.

"They had frequented some bars in the Baguihati-Kaikhali area near the airport quite regularly in the last few weeks. But at Indraprastha apartment, they gave the impression that they were in Kolkata for some time-consuming treatment," the Kolkata police official said.
Source: Bd news24