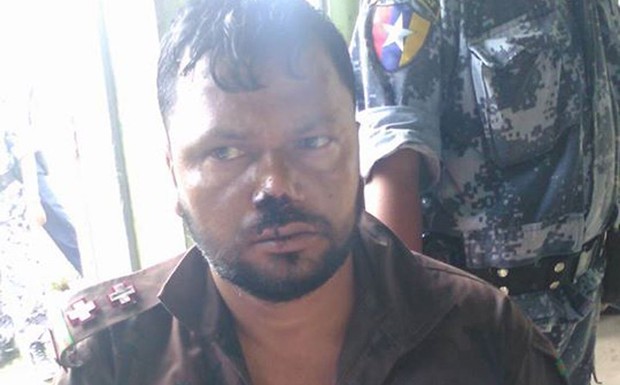 Myanmar's border force will repatriate abducted Nayek Abdur Razzak this week, says the Border Guard Bangladesh chief.
Myanmar's Border Guard Police (BGP) sent a letter intimating the decision on Tuesday evening, BGB chief Maj Gen Aziz Ahmed told bdnews24.com.
Referring to the letter, he said they would release Razzak in a flag meeting.
He, however, did not say if Myanmar set any condition to send back Razzak.
It earlier said along with the BGB trooper, Bangladesh would have to take in 555 victims of human trafficking, who the country claim were Bangladeshis, without checking on their nationality.
There has been tension between the border forces over the issue of Rohingya people crossing border into Bangladesh from Myanmar's Rakhaine state and smuggling of contraband Yaba pills.
The BGP shot BGB's 'Biplob' and took Razzak away after a shootout in the Naf River along the border on June 17.
The foreign ministry summoned Myanmar's envoy in Dhaka the next day and asked him for action to secure the release of the BGB soldier as rapidly as possible.
No flag meeting was held, despite repeated efforts by the BGB.
No information on the condition of Razzak could be known but two photographs uploaded on the BGP's Facebook page showed him bloodied and handcuffed.
Razzak's family in Natore are worried about his state after seeing the photographs. His wife gave birth to their third child on Monday.
Upon BGB chief Ahmed's return to Bangladesh from abroad on Tuesday afternoon, bdnews24.com asked him about the issue.
"I've tried to communicate to several parties to bring back Razzak. Then we received the letter from Myanmar, which specifies the date of the flag meeting it wants to hold on," he said.
He, however, would not say when the meeting would take place.
"They will sit this week, if not tomorrow (Wednesday)," he said.
Ahmed also said Myanmar in the letter said it would send a delegation of eight to 10 members, headed by an officer with the rank of a lieutenant commander.
"We've formed a team of five members led by the Teknaf commanding officer," he added.
Earlier on Tuesday, State Minister for Home Asaduzzaman Khan Kamal said Myanmar was 'going too far' by attaching condition to release Razzak.
Myanmar Navy rescued 727 migrants from the Andaman Sea.
Even after verification, Rohingyas, or Muslims from the Rakhine state who are being persecuted in Myanmar, were found in the last group of trafficking victims brought back last week.
Source: Bd news24