Relatives of slain Narayanganj City Corporation Councillor Nazrul Islam have expressed frustrations over the delay in bringing back the prime suspect of the murder from India.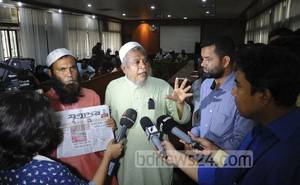 But the family of senior lawyer Chandan Kumar Sarkar, who was murdered with Islam and five others, find the government initiatives over the murders satisfactory.
They said they were hopeful about prime suspect Nur Hossain being deported from India.
Hossain and his two accomplices were arrested from an apartment at Baguiati, 10 minutes' drive from Kolkata airport, on June 15.
The Narayanganj City Ward-4 councillor was booked under Arms Act and Foreigners Act for illegal trespass into Indian territory without valid travel documents and for illegal possession of a weapon.
All three are currently in police custody.
His arrest was made nearly one and a half months after the seven murders in Narayanganj that shook the country.
Any formal request to the Indian government is yet to be made by Bangladesh, though the state minister for home said the process was on.
However, New Delhi has hinted that it may agree to Bangladesh's request to extradite Nur Hossain.
Indian media reported on Sunday quoting a senior government official that Delhi may consider Bangladesh's request "favourably".
"Nur Hossain can be brought back within six hours. But days have passed since then. Do we need to wage a movement to bring him back?" the slain councillor's father-in-law Shahidul Islam reacted while speaking to bdnews24.com.
"He is not being brought, because he will tell the names of the big fishes (involved). Hence the delay," he said.
The port city's Ward-2 Councillor Nazrul, lawyer Sarkar and five others were abducted on April 27. Their decomposed bodies were recovered from the Shitalakhyya River several days later.
Hossain had gone off the radar after the families of the victims alleged he orchestrated the abductions and murders.
Bangladesh sought the help of the Interpol on May 22 to nab him, but it had also informed India to check out reports that Hossain had slipped into Kolkata.
After his arrest, Bangladesh government began the process to bring him back from Kolkata under the extradition treaty.
State Minister for Home Asaduzzaman Khan Kamal had then said that the Indian authorities had requested some information on Nur Hossain.
"Nur Hossain's remand ordered by an Indian court expires on Monday. Let's see what happens then," said the slain councillor's in-law.
Asked whether they would launch an agitation, Islam said they would start it right after the Naryanganj-5 byelection scheduled for Jun 26.
Relatives of lawyer Chandan Sarkar, however, differed with Islam.
"The government is doing the right thing.
"The case is on the right path and it has not lost track," said Sarkar's son-in-law Bijay Kumar Paul.
He said the investigation could have lost its way in the midst of the movements and statements by different quarters after the killings.
"But that did not happen; police have arrested those whom we suspected. The prime accused Nur Hossain has been arrested in Kolkata. So, I believe he will be brought back," said Dr Paul.
On the comments of the slain councillor's relatives, he said:" It doesn't appear to me in that way. The government will bring back Nur Hossain and try him."
Source: UNBConnect