Many youths who had been reported missing for months are resurfacing as terrorists, RAB Director General Benazir Ahmed says.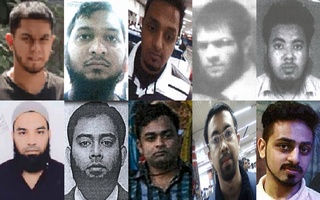 On Monday, briefing journalists, he said: "You are aware that we have received many missing young reports in recent times. Of late, some of them are resurfacing as terrorists".
He said three of the Gulshan attackers had been missing for quite sometime while slain Sholakia attacker was also among the youths whose whereabouts preceding the attack was a mystery even to their families.
Police say that these youths hail from well-to-do backgrounds and most of them are students of private universities. They come into contact with terror groups and while executing acts of terror, fall to the bullets of security forces.
Families of at least 10 missing youths have sought the help of law-enforcing agencies.
The missing youths are Mohammad Bashruzzaman from Tejgaon in Dhaka, Zunaid Khan from Badda, Nazibullah Ansari from Chanpainawabganj, Ashraf Mohammad Islam from Dhaka, Tamim Ahmed Chowdhury from Sylhet, Ibrahim Hasan Khan from Dhaka, ATM Tajuddin from Lakshmipur, Zubaidur Rahim from Dhanmondi in Dhaka, Mohammad Saifullah Ojaki from Sylhet, and Junnun Shikder.
On being asked, the RAB chief said drawing up lists of terror groups and tracking their activities was an ongoing process.
On the possibility of any link between the two recent terror attacks in Bangladesh with those in other parts of the world, Benazir said that nothing could be said with certainty before investigations concluded.
The RAB chief also formally launched a mobile application called "Report to RAB".
The app is available for installation on the elite police unit's website, www.rab.gov.bd or from Google Play.
He said any kind of activity that triggers suspicion of a possible terror motive can be reported to RAB through the app.
The app can be used to send screenshots of social media activities that seem terror-inspired.
Source: bdnews24