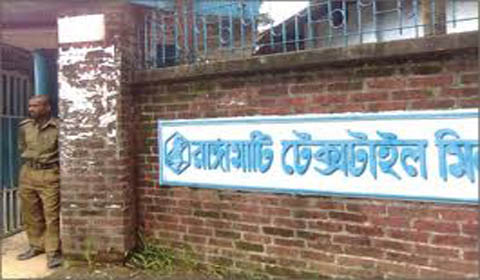 The authorities are in a fix whether to hand over the land of the state-owned Rangamati Textile Mills for setting up a power plant or to build a medical college and hospital.
The Cabinet Economic Affairs Committee approved a proposal from the Power Division to transfer the land of the loss-making mill to it for building a power plant.
It argued that the land of the closed mills can best be used for a power plant, a priority for the government.
Later, Prime Minister Sheikh Hasina during her visit to Rangamati announced that the land will be used for setting up a medical college and hospital.
This has put the ministry of textiles and jute in a fix on how to deal with two high level decisions, one opposing the other, sources at the ministry said speaking on condition of anonymity.
The trouble with the loss-making textile mills began after the Privatisation Commission failed to implement the government decision to sell the factory because of low price offered by prospective buyers.
Then came the proposal of the Power Division to transfer the Rangamati mills along with another loss-making Magura Textile Mills to it so the land can be used for building power plants.
The Cabinet Economic Affairs Committee accepted the Power Division's proposal to transfer the two mills to it considering the scarcity of land for setting up power plants.
But when Prime Minister Sheikh Hasina visited Rangamati, she announced that the land of Rangamati Textile Mills will used for setting up a medical college and hospital.
Official sources said the Rangamati district administration moved to execute Prime Minister's decision and forwarded it to the Ministry Textile & Jute.
But the ministry found that there is already a decision by the Cabinet Economic Affairs body to hand over the mills to Power Division.
The discovery put the ministry in a dilemma.
Additional Secretary of Cabinet Division Nurul Karim and said the matter has been forwarded to the Cabinet Economic Affairs Committee for final decision.
Rangamati Textile Mills, established in 1976, was shut down in April 2009 after it suffered continuous losses.
The decision to hand over Magura Textile Mills, another loss-making state-run enterprise, to the Power Division stands.
Source: UNBConnect