Babul Barman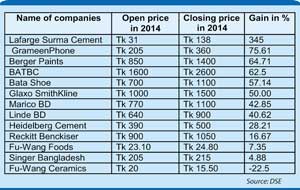 Share prices of listed multinational companies (MNCs) posted hefty gains in the just concluding calendar year compared to previous year.
Presently, a total of 13 multinational companies listed on the Dhaka Stock Exchange (DSE) account for 34 per cent of the total market capitalisation, according to statistics from the DSE.
Of the 13 listed MNCs, 12 witnessed price appreciation between the range of 345 per cent to 4.88 per cent while one saw 22.5 per cent price fall in the just concluding calendar year, the DSE data showed.
Lafarge Surma Cement witnessed the highest gain with a whopping 345 per cent over the year as its opening price in 2014 was Tk 31 and at the end of the year its price stood at Tk 138.
Analysts said that merger of Switzerland's Holcim and French Lafarge spurred the sharp rise of the cement company.
Grameenphone (GP), the country's top mobile phone operator, followed next in terms of price rise. GP's share price rose 75.61 per cent to Tk 360 at the closing session of the year.
Each share of Berger Paints, Bangladesh closed at Tk 1400 from opening price of Tk 850, registering an increase of 64.71 per cent over the year.
British American Tobacco Bangladesh (BATBC) followed next with gaining 62.5 per cent as its' opening price was Tk 1600 and closed at Tk 2600 in 2014.
Bata Shoe witnessed 57.14 per cent rise over the year, followed by Glaxo SmithKline 50 per cent, Marico BD 42.85 per cent, Linde BD 40.62 per cent,  Heidelberg Cement 28.21 per cent,  Reckitt Benckiser 16.67 per cent, Fu-Wang Foods saw 7.35 per cent and Singer Bangladesh witnessed 4.88 per cent while Fu-Wang Ceramics saw 22.5 per cent price decline over the year.
Analysts said brand reputation, well-managed operations and product quality have helped the multinational companies to increase the earnings as well as profitability.
"Stock prices of those companies rose as rising reserves and surplus, and positive trends in dividend declaration have attracted the investors," said Akhter H Sannamat, managing director of Union Capital.
The multinational companies are well-managed and have reputation of their product quality, making them to earn more," said Mr Sannamat, also vice president of Bangladesh Merchant Bankers' Association (BMBA).
He said investors put their fund in those companies hoping to get higher returns as their fundamentals are very strong.
Three things brand value, profitability and future prospect have driven up share prices of any company, he said. Share prices of the companies rose for their corporate performance, he added.
The multinational companies have declared a significant amount of cash dividends every year after their listing with the bourses.
Among the top multinational companies in terms of dividend declarations, BATBC declared 620 per cent cash dividends for the year 2013, from 500 per cent in 2012. The company got listed on DSE in 1977.
Listed on DSE in 1987, Reckitt Benckiser declared 400 per cent cash dividend in 2013 against 150 per cent in 2012.
Bata Shoe declared 300 per cent cash dividend in 2013, which was 275 per cent in 2012. The company got listed on prime bourse in 1985.
SOurce: Financial Express