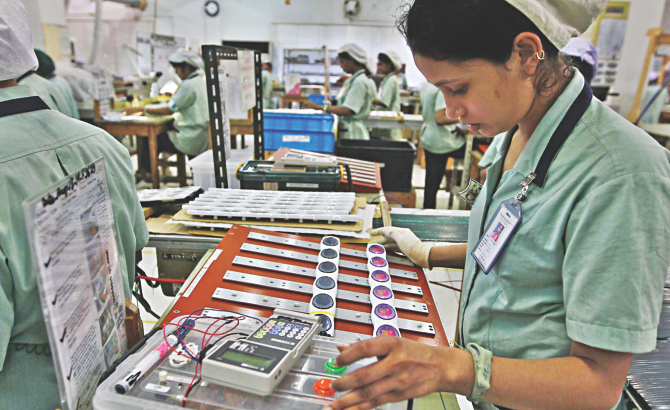 In Japan, one can buy just about anything from vending machines — from smart cars to undergarment, live crabs to fresh eggs, fried chicken to steaming hot cup noodles — and they are available all the time, everywhere.
But what is not widely known is that the pushbutton, which is used to select the items, in 90 percent of these machines is made in Bangladesh, at a factory in Chittagong Export Processing Zone.
Established in 1997 by a Japanese national, Op-Seed Bangladesh Ltd has been supplying this vital part to vending machine manufacturers in the Far-east nation, which has the highest number of vending machines per capita, since 1999. There is about one machine for every 23 people.
Ataul Haque, general manager of Op-Seed, said the company's patented interlocking pushbuttons are held in high regard by its clientele, as they offer greater flexibility in panel design and save labour in the assembly process.
The company also supplies many other sophisticated devices such as display boards at train stations, railway signals and LED lighting products.
Haque says the majority of the signalling lights and displays in railway stations in Japan are made in the factory.
"We have a commendable market share in Japan," he said, adding that the CEPZ-based company also exports to the US.
The factory employs nearly 1,000 Bangladeshi skilled workers along with some Japanese technicians. Each of the recruited Bangladeshi workers is personally trained by Japanese experts.
 "The Japanese customers are very quality-conscious, so we have to unfailingly maintain the superior quality of our products. And for that, highly skilled manpower is needed," said Haque, also a director of the company.
The business growth has been "very good" from the onset of the operations, and now, the company is looking to expand.
"We are trying to make bigger pushbuttons for vending machines so that the customers can buy even a bag of rice from them."
Haque said the company has started selling its LED bulbs in Bangladesh; 10 percent of the total bulbs produced in the factory are being sold in the local market.
"We use the slogan "Made in Bangladesh" on the body of every product manufactured in the factory," he said, while calling for a separate export processing zone for Japanese investors as many are interested in setting up industrial plants in the country.
Source: The Daily Star