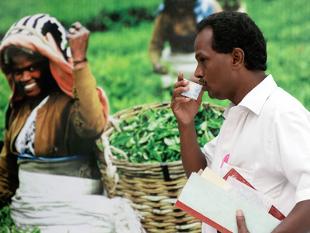 KOLKATA: India's tea exports to neighbouring Bangladesh plunged 90% in the first six months of this fiscal after Dhaka raised the customs duty on tea imports. Experts say the sharp fall came at a time when exporters were struggling with reduced offtake because of political tensions between Ukraine and Russia, turmoil in West Asia and chaos in Pakistan.
Tea exports to Bangladesh fell to 0.46 million kg in the six months to September 2014 from 5.02 million kg in the year-ago period, according to the Tea Board of India.
Besides, the unit price realisation for Indian tea in Bangladesh declined to Rs 92.61 per kg over this period from Rs 107.47 per kg in the corresponding period of the previous year. Bangladesh had raised customs duty on tea to 15 per cent from 5 per cent in April last year to discourage imports amid a drop in local prices because of excess supplies. This impacted Indian exports to the neighbouring country, which was emerging as a major destination for tea exports, mainly from southern India.
"Last year, India had exported nearly 14 million kg of tea to Bangladesh. This year the exports have almost come to a halt," AN Singh, chairman at Indian Tea Association, told ET. "This is a major concern for the industry. Even the unit price realisation is less than the average price we got last fiscal."
DP Maheshwari, managing director at Jay Shree Tea & Industries, said unless Bangladesh reduces the import duty, it will be difficult for Indian tea companies to increase exports to the country. Geopolitical tensions in some key markets have also hit Indian tea exports. Exporters say the ongoing problems have made buyers across the globe cautious over building up stock.
"Buyers are placing less orders this year. This has impacted exports in the July-September quarter," the ITA chairman said. According to the Tea Board of India, the country exported 86.77 million kg of tea between April and September 2014 against 95.70 million kg in the yearago period.
The average price realisation over this period fell 6% in rupee terms.Another neighbouring country, Pakistan, bought more tea from Kenya, which offered lower rates than that of Indian tea. According to industry executives, Indian tea exports to Pakistan are likely to be less than last fiscal's figure of 19.92 million kg. In 2013-14, India had exported nearly 226 million kg of tea.
"It will be difficult for us to achieve this figure in the current fiscal. Exports could be around 200 million kg," Singh added.
Source: The Economic Times