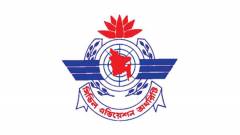 The High Court has stayed for one month the validity of the Civil Aviation Authority of Bangladesh (CAAB) notice that asked United Airways to clear all dues within June 29.
A High Court bench comprising of Justice Kazi Rezaul Haq and Justice Akram Hossain Chowdhury issued the order on Sunday, responding to a petition filed by the United Airways chairman, the petitioner's lawyer AM Aminuddin told Dhaka Tribune.
Earlier on June 26, the CAAB authority issued a letter to the private carrier United Airways (BD) Ltd asking to clear all outstanding aeronautical and non-aeronautical charges of around Tk77 crore within June 29.
In case of failing to clear the dues, the private carrier might face operational suspension, the notice added.
Of the Tk77 crore, Tk40 crore in outstanding amount accounted for charges and the rest for surcharges.
Following the notice, a writ petition was filed with the court on Sunday, seeking more time to pay the dues.
Earlier, the CAAB authority imposed a ban on sale or purchase of aircraft by United Airways until it cleared all current and outstanding charges in the next one year.
The airlines regulator reportedly served at least 20 notices over the last one year to United Airways, asking it to pay the arrears.
United Airways, which began operations in 2007, was listed on the stock market in 2010 through initial public offering and raised Tk100 crore.
In 2011, it raised another Tk315 crore from shareholders through rights offer.
Source: Dhaka Tribune