Food inflation increased 55 basis points in September to hit 7.87 percent — the highest in 38 months — on the back of the massive production loss of the staple rice.
In recent months, rice prices rose to record highs, reflecting the dwindling supplies following flood-induced losses to the main boro crop coupled with reduced production and imports in 2016.
About 20 lakh tonnes of boro crop have been damaged, according to the food ministry.
In September, coarse rice price in Dhaka city was Tk 52.54 a kilogram in contrast to Tk 34.62 a year earlier, according to data from the Bangladesh Bureau of Statistics. In the same manner, fine rice price in September was Tk 62.46 to Tk 66.30, which was Tk 53.90 to Tk 55 a year earlier.
According to the latest household income and expenditure survey, the consumption of rice declined but the contribution of the staple is still high in people's total food intake.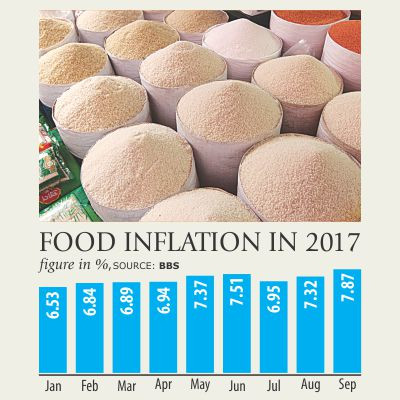 The average quantity of rice intake decreased to 367.19 grams in 2016 from 416.01 grams in 2010. "It is mention-worthy that rice consumption is gradually decreasing in Bangladesh," said the survey report released last week.
However, during the period, consumption of vegetables, edible oil, onion, beef, chicken, egg and fish increased.
Still, rice consumption accounted for 38 percent of the total food intake in 2016, which was 41 percent in 2010.
Last month, the overall inflation stood at 6.12 percent, up 23 basis points from August, according to data from the BBS.
Earlier in August 2014, food inflation was 7.67 percent and gradually decreased to below 4 percent. From January last year, it started to creep up to more than 6 percent, crossing the 7 percent mark in May.
In recent months, food inflation in rural areas has been higher than in urban areas. For instance, in September food inflation in rural areas was 7.97 percent and in urban areas 7.63 percent.
However, non-food inflation in September stood at 3.44 percent, which is 31 basis points less than in August.
In rural areas, non-food inflation was 2.98 percent, and in urban areas 4.08 percent.
As the price of food items, especially rice, increased, people's expenditure on it rose, diverting funds from non-food items, according to Zahid Hussain, lead economist of the World Bank's Dhaka office.
"This maybe the reason why non-food inflation declined," he added.
The food ministry held several meetings with businessmen over the hike in rice prices, which started manifesting in May; traders cited various reasons, with one being the government's dilemma over tax cut.
Due to the food crisis, the import of rice at both the government and private levels have picked up.
From July 1 to October 4, 10.78 lakh tonnes of rice was imported, of which the government brought in 2.94 lakh tonnes.
The government has also finalised the process of importing about 12 lakh tonnes of rice through state-to-state arrangements and open tender. The rice will reach the country in a month.
Last fiscal year the government did not import any rice. However, at the private level, 13.30 lakh tonnes of rice was imported, a major portion of which was towards the end of the year. Even after that, rice price has not come down significantly.
Source: The Daily Star