by Kayes Sohel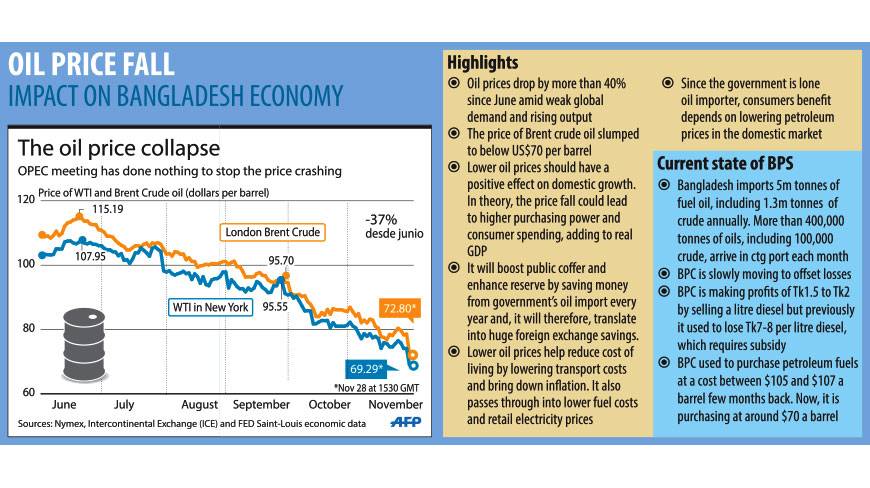 The country's economy is expected to benefit from the dramatic fall in oil prices that continued to zoom out as of yesterday, economists said.
But, they said, the consequent consumer benefit depends on the price adjustment at the domestic market commensurate with the international price.
The cash-strapped Bangladesh Petroleum Corporation (BPC), the country's lone state-owned oil importer, is expecting to become a profitable entity soon, as it does not require any subsidy at present, its chairman told the Dhaka Tribune yesterday.
The BPC is for downward price revision of petroleum products if the falling trend prolongs for a few months more.
Oil prices have dropped by more than 40% since June amid weak global demand and rising output.
Most global forecasts suggest the oil prices are unlikely to go beyond $80 a barrel for next few months because the current level of extraction will remain the level as it has been recently.
The price of Brent crude oil, the major trading classification of sweet light crude oil that serves as a major benchmark price for purchase of oil worldwide, slumped below US$70 per barrel, its lowest level since 2010.
Yesterday, the Brent oil price fell 0.89% to $69.92 a barrel in the international market.
The International Energy Agency recently disclosed in its recent oil market report that world oil demand is softening at a remarkable pace as the European and Chinese economies falter.
Effects on Bangladesh Economy
Lower oil prices if sustain should have a positive effect on domestic growth.  In theory, the fall in oil prices could lead to higher purchasing power and consumer spending and hence add to real GDP.
"The impact of lower oil prices is broadly positive to oil importers like Bangladesh," said eminent economist Mirza Azizul Islam, who was the finance adviser to the past caretaker government.
He said it will boost public coffer and enhance reserve, as the government has to spend billions of dollar as oil import bill every year. The fall in oil prices, therefore, translates into huge foreign exchange savings.
The impact of the falling oil prices has contributed in saving foreign currencies as reflected in the LC opening figures. The value of LC opening fell about 20% in the July-October period of this year as compared to the same period last year.
Professor of economics at Dhaka University MA Taslim said falling oil price is a boon for Bangladesh.
"Usually, lower oil prices helps reduce the cost of living by lowering transport costs and bringing down inflation. Lower oil prices also pass through directly into lower fuel costs and retail electricity prices," he said.
But since the government is the lone oil importer, consumers benefit depends on lowering petroleum prices in the domestic market, he said.
Present State of BPC
According to the BPC, the country imports around 5 million tonnes (1 barrel is equal to 0.13 tonne) of fuel oil annually, including 1.3 million tonnes of crude for the country's lone refinery – Eastern Refinery Ltd in Chittagong.
More than 400,000 tonnes of oils, including 100,000 tonnes of crude oil, arrive in the port each month.
Bangladesh mainly procures gas oil or diesel, followed by furnace oil to feed expensive power plants.
"The entity is slowly moving towards making profit," BPC Chairman Eunusur Rahman told the Dhaka Tribune.
"Now, we are making profits at range between Tk1.5 and Tk2 by selling a litre diesel. But previously we lost Tk7 to Tk8 per litre, which required subsidy," he said.
"Around 75% of the subsidy went for diesel."
BPC has to spend Tk12,000 crore per year as subsidy – mostly goes to quick rental power plant.
It used to purchase the petroleum fuels at a cost ranging between $105 and $107 a barrel few months back. Now, it is purchasing at around $70.
"Our liability is gradually shrinking due to the huge gap between the past and current prices," said Rahman. "So, it is not possible at this moment to lower the prices of petroleum products as the BPC has cash crisis and limited storage capacity."
The country has only a storage capacity of 913,000 tonnes to meet the demand for only 1-2 months. The Eastern Refinery had undertaken a project long back to raise the capacity by 350,000 tonnes, but there is hardly any progress so far made, officials said.
The BPC currently has outstanding debts worth around Tk4,000 crore.
Rahman, however, said if the current trend in the petroleum prices continues in the international market for some more months, the government might consider a price cut in the domestic petroleum prices.
The Former Finance Adviser suggested adjusting prices of petroleum products on quarterly basis. "But it is a common phenomena in our country that if prices of anything go up, we do not raise and if prices go down, we do not reduce. This actually results in subsidy."
BPC's diesel import is more than half of its total import of around 5.4m tonnes of petroleum products – a target set for the current fiscal year. It has been importing around 3m tonnes of diesel on an average during the past several years.
The three state-run oil-marketing companies are Meghna Petroleum, Padma Oil and Jamuna Oil, which earn commission by selling oils at retail level.
Impact on private companies
The government has allowed some fuel oil-run private companies to feed their own factories and power plants. Falling oil price also have a direct positive impact on aviation firms, paints and power plants (where crude oil is a vital input).
"The government has allowed some private companies like us to feed our plants," said Azam J Chowdhury, chairman of MJL Bangladesh Ltd, formerly known as Mobil Jamuna Lubricant Ltd.
He said the government should open the domestic oil market for the private sectors to bring quality service in energy sector and give benefit at retail level.
Sourcet: Dhaka Tribune