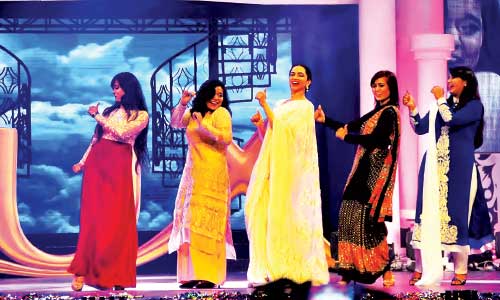 I'm extremely amazed by the generosity of the people here,' Deepika Padukone summed up her Dhaka experience following a stage show on Saturday.
'The generosity' of both the organisers and viewers, may have gone a little too far, at the Bashundhara Convention Centre, to welcome the 29-yeal-old Bollywood actress who visited Dhaka as the brand ambassador of Lux.
The way in which the Chennai Express actress was introduced at the show, titled 'A Mesmerizing Fragment Evening with Deepika,' can be compared to be mythical descent of goddesses from the heaven.
In the midst of pin-drop silence and complete darkness, a silhouette appeared on the first floor of the palace-like stage and the crowd suddenly realised whose image it was! 'Deepika,' they shouted at the top of their voice as the actress, dressed in a cream-coloured sari, stepped down the stage using a staircase.
However, local celebrities including famous models, actors and singers who performed at the show used the entrance point at the ground floor of the stage.
Deepika, who often advocates women's empowerment and cristicises women's sexualisation, demonstrated a 'signature' style of contemporary Bollywood hip shakes and delivered a Bangla dialogue, in Hindi accent, from her recent film Piku. Apart from that, the actress did not perform in the show, rather enjoyed the overenthusiastic declarations of love from her fans in Bangladesh, including the local stars present there.
Local stars like Bidya Sinha Meem, Mehzabein and Shanu danced to the playbacks of Deepika-starred films while a delighted Deepika watched those, sitting on a sofa, as she is found doing in many star-searching reality shows aired on Indian satellite channels.
Popular singer-actor Tahsan, who hosted the promotional programme organised to introduce two new brands of Lux soap in Bangladesh, said he 'felt nervous.' When it came to nervousness, Tahsan was not the only one who suffered from it. Other models and actors and the few selected viewers who got the chance to appear on stage and talk to Deepika also appeared to be awed by the majestic beauty of Deepika.
Earlier, popular actresses Shomi Kaisar, Mou, Ishita and Kusum Sikdar – who worked as local brand ambassadors of Lux in the past – performed in a cat-walk.
Bappa Mazumdar sang his popular song Brishti Pore, while Dilshad Nahar Kona rendered her signature song Gaymatic Bhalobasha. Partha Barua presented his famous song Mon Sudhu Mon Chhuyechhey. The vocalist of Nemesis band, Zoad, covered Without You when John Kabir covered I Love You More than I can Say.
Deepika arrived in Dhaka to attend the show on Saturday and left on the following  morning.
Source: New Age