Bangladesh's location gives it an unique geo-economic advantage that can be leveraged for national economic growth, say World Bank experts, who are attending the three-day South Asia Economic Conclave in Delhi.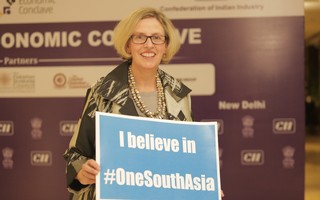 "Bangladesh is located strategically between South and South-East Asia. It can leverage that advantage for developing its trade and commerce, connectivity and infrastructure," said Annette Dixon, the World Bank Vice-President for South Asia.
Meeting media professionals over lunch ahead of the first-ever South Asian Economic Conclave, Dixon said: "There is real great promise for Bangladesh, not only because it enjoys a huge advantage but its current leaders are aware of it and keen to leverage it."
Unlike Pakistan, Bangladesh has tried solving most of its problems with big neighbour India and focus its energies on developing its own economy and human development indicators – an approach that has earned the praise across the world.
"India is now the fastest growing economy in the world and is pursuing a 'Look-East' policy to link up with South-east Asia and East Asia. That cannot happen without Bangladesh," said the Bank's lead economist for South Asia Sanjay Kathuria.
"That should give Bangladesh a huge impetus to invest in regional connectivity," said Kathuria. "It can make billions from regional trade that will pass through its territory and not much less for goods and people moving between India's northeast and the country's mainland."
File Photo
He said this will help attract huge foreign direct investments into Bangladesh's manufacturing and infrastructure building.
"Bangladesh's mass manufacturing is the most competitive in South Asia," Kathuria said. "And it will provide global companies both a look-west and infrastructure building.
"Bangladesh's mass manufacturing is the most competitive in South Asia," Kathuria said. "And it will provide global companies both a look-west and a look-east option when it came to markets."
Source: bdnews24