The central bank purchased $5.15 billion from the market in the last financial year to keep the exchange rate stable.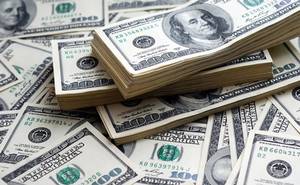 The figure was 7.7 percent higher than $4.79 billion that Bangladesh Bank brought in the previous financial year.
Governor Atiur Rahman disclosed the information at a meeting with top officials of scheduled banks on Monday.
He mentioned that import earnings and remittances were higher than the import payment last FY.
Rahman said the greenback was purchased to ensure stability in US Dollar-Bangladesh Taka exchange rates.
According to information at the central bank, Bangladesh imported goods worth $33.18 billion in the 213-14 FY, registering a 10 percent growth over the previous FY.
Export Promotion Bureau (EPB) says export earnings in the 2013-14 FY stood at $30.18 billion, 11.65 percent higher than the previous year's figure.
On the other hand, expatriate Bangladeshis sent home $14.42 billion in 2013-14 FY.
The central bank purchased dollars to ensure that the US unit does not get weaker against taka amid its increased supply.
The dollar was selling at Tk 77.63 at the end of 2013-14 FY against Tk 77.76 a year earlier.
Source: bdnews24