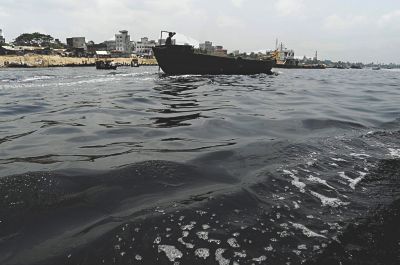 The Buriganga River, the lifeline of Dhaka city, could be revived within a year by just putting an end to the spilling of industrial and household pollution into the river, according to water experts.
"The Buriganga River could be revived within a year. Just stop polluting it … the river will get back its life soon," Prof Dr M Feroze Ahmed, Vice-Chancellor of Stamford University, told a meet-the-press programme at the Jatiya Press Club on Saturday.
The Department of Public Health Engineering, the United Nations Information Centre, the United Nations Children's Fund, the World Bank, Bangladesh WASH Alliance, Japan International Cooperation Agency, the Bangladesh Center for Advanced Studies (BCAS) and the NGO Forum for Public Health jointly organised the programme marking the World Water Day.
Dr Mujibur Rahman, a professor of the Department of Civil Engineering at Buet, said once the Thames River located in southwestern Ontario in Canada was badly polluted but it has been brought back to life with concerted efforts of all.
"Why the rivers surrounding Dhaka city cannot be revived? It's very much possible to restore the old nature of the rivers — Buriganga, Turag, Balu and Sitalakhya," he said.
Delivering his power-point presentation on the thematic issue, Dr Mujibur highlighted the major sources of pollution in the Buriganga, Turag, Balu and Sitalakhya rivers.
He said the industrial effluent discharged from Hazaribagh, DEPZ, Gazipur and Savar, and the domestic sewerage from a large part of Dhaka city through storm drain outlets are reasonable to the pollution of Buriganga-Turag-Bangshi-Dhaleshwari river system in Dhaka's watershed areas.
The water expert said the Buriganga River is severely being affected due to huge pollution load (5600 kg BOD per day) from Hazaribagh industrial cluster and Dhaka city's domestic sewerages.
The largest contributor of organic pollution measured in terms of BOD loading from both industrial and domestic sources is the Tejgaon industrial cluster and its adjoining areas within the central Dhaka city, he said.
Dr Mujibur identified that the worst pollution is found in the Buriganga River mostly due to tannery wastes and domestic sewerages.
A newly-released report of Poribesh Bachao Andolon (Poba) also showed that about 21,000 cubic meters of untreated toxic wastes from tanneries in the city's Hazaribagh area is released into the Buriganga River every day.
The report says the pollution of the Buriganga, Turag, Balu and Sitalakhya rivers have reached an alarming level and the dissolved oxygen of the river water has almost reached the zero level.
Chaired by executive director of BCAS Dr Atiq Rahman, the event was addressed, among others, by former executive director of Institute of Water Modelling (IWM) Emad Uddin Ahmed and chief engineer of the Department of Public Health Engineering Engr M Nuruzzaman.
Source: UNBConnect