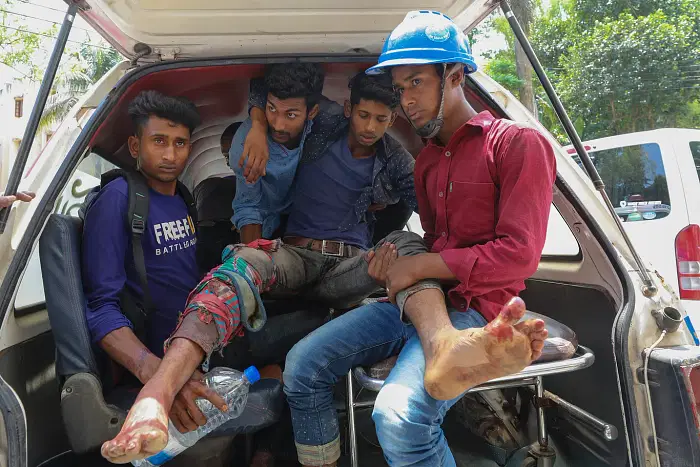 Police and SS Power Plant authorities on 17 April lodged two separated cases with Banshkhali police station accusing over 3,000 people regarding the clash at the Gandamara coal-fired power plant in Chattogram's Banshkhali upazila on the day.
The clash left five workers dead while dozens sustained bullet injuries. Three police personnel were also injured by brick chips thrown allegedly by the agitating workers.
Banshkhali police station officer in-charge, Shafiul Kabir told Prothom Alo on Sunday morning that sub-inspector Kamruzzaman at the police station filed a case against some 2,000-2,500 unidentified people on allegations of attack and obstructing police from performing duties during the clash.
While the power plant's chief coordinator Faruk Ahmed filed another case against 1,040-1,050 people mentioning 22 names on allegation of vandalism, arson and attack. Faruk mentioned that the clash caused damage of the plant's properties worth Tk 250 million (25 crore).
Police have not yet arrested anyone involved in the case.
Shafiul Kabir confirmed that the situation of the Gandamara is now under control with deployment of a reserved force of police.
At least 30 injured workers are now undergoing treatment at different hospitals while the bodies of five workers have been kept at Chittagong Medical College Hospital for autopsy. Tension has been mounting in the area as workers and locals fear arrest in the cases. Since the clash, construction works of the power plant remained halted.
S Alam Group authorities, owner of the under-construction power plant, have announced to give Tk 300,000 to the families of each of the five deceased workers as compensation and Tk 50,000 to each of the injured workers.
The construction workers had been demonstrating for several reasons including wage within first five days of a month, reducing working shift from 10 hours to 8 hours and 4 fours on Friday during the Ramadan.
While demonstrating for their demands on 17 April, the workers at once locked in clashes with police. Police alleged that the workers pelted brick chips on them. To bring the situation under control, police fired bullets on the agitating workers.