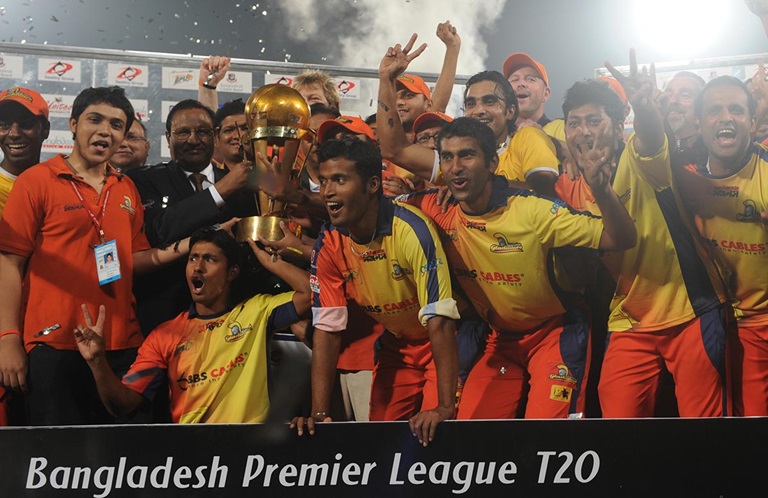 The lucrative Bangladesh Premier League will be revived in November, two years after the Twenty20 tournament was halted in the wake of match-fixing scandals.
The BPL, which started in 2012, was suspended indefinitely after the second edition amid revelations that former Bangladesh captain Mohammad Ashraful and four others were involved in fixing matches.
The tournament, which drew talent from around the world, was also tainted by salary issues, including franchises failing to pay match fees to players.
But Bangladesh Cricket Board (BCB) officials said the new tournament starting on November 24 would feature six new franchises, including in Dhaka and Chittagong, backed by big companies.
"This time, we've big companies buying franchises. So hopefully, players' payment won't be an issue from now on," BPL secretary Ismail Haider told a media conference in Dhaka.
"We are confident BPL will attract some of the best cricketers on earth."
Haider also said the BCB would engage anti-corruption officers to tackle match-fixing issues.
"We have our own anti-graft unit, which is fully functional," he said.
The Federation of International Cricketers' Associations (FICA), the world players' peak body, last year had warned members against future participation in the BPL due to the non-payment of match fees.
Haider said the BCB had cleared dues owed to almost all of the players who took part in the earlier editions.
It had received bank guarantees from the new franchises to avoid a repeat of the problem.
The first two editions of the BPL featured some of the biggest names in world cricket, including Australians like Brad Hodge, Brad Hogg, Shaun Tait and Dirk Nannes.
The likes of Shahid Afridi, Chris Gayle and Muthiah Muralidaran were also involved.
Hodge, who has played in T20 leagues around the world since retiring from first-class and one-day cricket, told cricket.com.au on Wednesday that he's put his hat in the ring for the upcoming Pakistan Super League (PSL) in Qatar next February.
The Adelaide Strikes batsman said he was keen to continue his playing career despite turning 41 in December.
"I've probably got a little bit left in me, which is nice," he said.
"I think if my performances drop off, I'll know, but that hasn't happened yet.
"The breaks actually really help your motivation. You get excited in the build-up to each tournament, whereas sometimes, when you've been in the game for this long and continue training Monday to Friday, you just drift in and out.
"I don't have that anymore in my life – cricket season just comes, I get into the action and away I go."
Source: Cricket.com