Researcher at the Institute of Development Studies of the UK says memory of 1974-famine acts as a powerful driver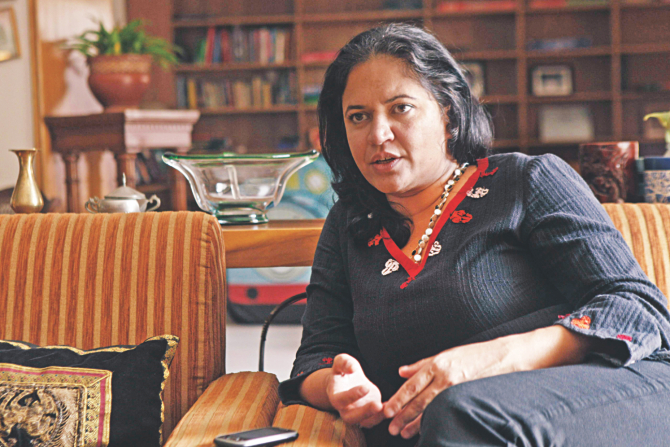 Bangladesh handled the recent global food price spike and its effects quite well compared to some countries.
The introduction of an employment generation scheme in 2008 and a permanent social safety net helped the poor in the country tackle the negative effects of food price shocks better than others.
Naomi Hossain, a research fellow at the Institute of Development Studies at the University of Sussex in the UK, links Bangladesh's such responsiveness to policymakers' understanding of the sufferings of people, particularly the poor.
The lesson learnt from the 1974-famine, when thousands died, also played a vital role in making the government responsive to food shortages and price hike of staples.
"In Bangladesh, there is an understanding I think. The memory of the famine (the latest in 1974), I think, has been a very powerful driver of tackling acute food insecurity," Naomi said in an interview with The Daily Star in Dhaka recently.
"Long-term problems with malnutrition, stunting, water and sanitation do not get that kind of action. But if you have a sudden price hike, you get that kind of action."
She had come to Dhaka to unveil the findings of a study, Life in a Time of Food Price Volatility, and a report, Them Belly Full (But We Hungry), focusing on food rights struggle in Bangladesh, India, Kenya and Mozambique during price volatility between 2007 and 2012.
Naomi, a political sociologist, is the lead researcher of the two joint studies. Professor Ferdous Jahan at the University of Dhaka also works with her on food price volatility.
Naomi's work focuses on the politics of poverty and public services. She is also the author of a book — Elite Perceptions of Poverty in Bangladesh.
Naomi said people faced hard times in 2008, but by 2010, the price stabilisation mechanism as well as stock was better.
"People knew what to expect. People knew and they were not surprised that time. Still angry, but they were kind of used to it," she said. "I think, in Bangladesh, they (government) handled it pretty well. In 2008, they already had an employment guarantee programme."
She said Bangladesh has a much stronger permanent safety net scheme, which allows the government to tackle crisis like natural disasters, cyclones, flood, or drought and food price volatility.
"This is a key thing. When there is a crisis like earthquake, tsunami or drought, you cannot suddenly invent a whole system and whole government structure there to deliver."
"It has to be there already. It has to happen automatically every time the price goes up or there is a flood or something. Actually, the Bangladesh government has always been quite good because of natural disasters like cyclones and flood. This kind of responsiveness is quite good."
The other thing that Bangladesh has but the three other countries — India, Kenya and Mozambique — do not, is 'some understanding' of policymakers about the miseries of poor people for food price spikes, Naomi said.
This comes from proximity with people living in urban and rural areas, and poor people's migration to cities in search of better livelihoods, she added.
"Compared to these other countries, Bangladeshi policymakers, political classes, the elites and the food policy people actually have some understanding, have some closeness to the people who suffer, not a lot, but more than you will get in India or you might get in Kenya."
Naomi said everyone has close relatives in the village; poverty is very visible, especially in Dhaka.
"So we know more or less. It is not that we do not see them. We see these people. We know these people. That struggle is not easy in Kenya and Mozambique."
The 1974-famine left a lesson for the policymakers here; more than a million people died during the period from July 1974 to January 1975, said Banglapedia, referring to some estimates. The government estimate of mortality was, not surprisingly, only 26,000, according to Banglapedia.
"It is really dangerous, stupid and a wrong thing to let things get that far," she said, adding that people should talk about starvation so that the younger generation does not forget those bad days.
Unless the matter is discussed, the next generation might forget and might be careless in tackling food shortages and food insecurity, she said. "You have to remind people what happened."
RIGHT TO FOOD
Despite the responsiveness of policymakers and political classes, Bangladesh lags behind others, particularly India, in ensuring rights to food.
"Bangladesh and India have a similar history but very different politics of food. In Bangladesh, we do a lot but we do not talk about rights much. In India, they talk about rights a lot and there are also quite a lot of programmes."
The reason, she said, is a lack of civic movement to ensure rights to food. Naomi said the rights to food should be the first right that people should have.
She said although there is no legal right to demand food, people, particularly in Bangladesh, believe it is their natural right.
"It is a right because I am human, because I live in a community. If I live in a community and I am hungry, other people — that neighbour, school teacher, chairman, and my cousin — are responsible for helping me."
But giving rights in law helps people a lot in times of food price spirals and volatility, she said.  The Bangladesh government does quite a lot of good social protection work, without anyone having any right to claim, she added.
"You do not have the right. You can go ask but you do not have the right to get any Vulnerable Group Feeding (VGF) or Test Relief (TR) or Vulnerable Group Development (VGD)."
She said a 65-year poor widow, with no son or daughter to support her, might be starving in Rangpur; it does not mean that anyone is going to give her VGD, unless she is in the right place, or she knows someone or unless she hears about it.
"So, we have it but we do not have any right. If there is a problem, we cannot say anything."
The difference between Bangladesh and India is that India has a national employment guarantee scheme, which is a rights-based programme, she said. And if enough people demand it, the government has to run the scheme in that area, she added.
"In Bangladesh, it is decided by somebody sitting in the ministry of social welfare, relief or sitting with the World Bank. There is no right involved and nobody can claim if he is hungry."
The media can play a role in the right to food movement, Naomi said. NGOs also need to come forward for the right to food movement, including unions, labour organisations and civil society groups, she added.
The most important thing, she said, is to make sure that policymakers continue to hear and listen to and know how the poor people and hungry people are living.
"We are not too bad in this in Bangladesh. We always try to give people the space to speak. This is the most important thing. These are the people who should be going to the policy tables to talk (about their sufferings)."