Global ranking slips to 174 as indicators in starting business, paying taxes and getting electricity
Bangladesh's global ranking has slipped in ease of doing business, standing at 174th position among 189 nations as the country's performance deteriorated on indicators, including starting business, paying taxes and getting electricity.
According to the Doing Business Report 2016 – the flagship report of the World Bank and International Finance Corporation, out of 10 indicators, Bangladesh slipped on five and remained unchanged in five.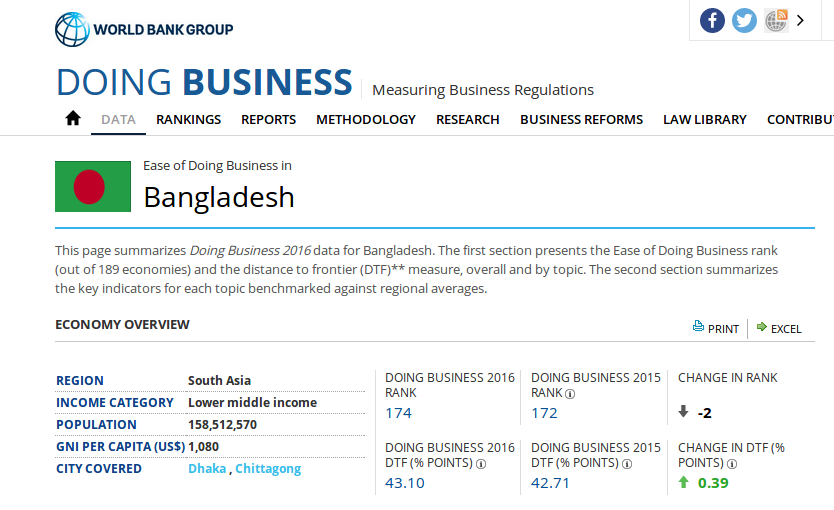 The rankings for all economies are benchmarked to June 2015.
Among the south Asian countries, Bhutan has been 71st, Nepal 99th, Sri Lanka 107th, Maldives 128th, India 130th, and Pakistan 138th.
The fall in Bangladesh ranking from the last year's 172nd position is mainly because other nations performed much better, the bank officials said.
International investors make investment decisions after reviewing a country's position on the Doing Business Index.
The report painted the gloomy picture at a time when Bangladesh is making desperate efforts to attract foreign investment to boost economy.
Singapore occupied the top position in the ease of doing business followed by New Zealand, Hong Kong, Denmark and South Korea respectively. USA ranked 7th while China, the world's second-largest economy, slipped one notch to 84th place.
Russia, struggling with an economy hit by the plunge in oil prices and Western sanctions over the Ukraine conflict, moved up in the ranks, to 51st place from 54th.
Of the 189 economies surveyed through June 1, the World Bank found improvements in regulatory frameworks in 122 of them.
Among developing economies, 85 implemented 169 reforms during the past year, compared with 154 reforms the previous year.
Click here to see all reforms made by Bangladesh
Adding the 62 reforms undertaken by high-income economies, a total of 231 reforms were implemented, the report said. Sub-Saharan Africa accounted for about 30% of the reforms, followed closely by Europe and Central Asia.
The World Bank highlighted the world's top 10 "improvers" – economies that implemented at least three reforms during the past year and moved up the rankings scale: Costa Rica (58), Uganda (122), Kenya (108), Cyprus (47), Mauritania (168), Uzbekistan (87), Kazakhstan (41), Jamaica (64), Senegal (153), and Benin (158).
Eritrea held on to the worst ranking for businesses. The bottom 10 economies were largely in Africa, with the exceptions of Haiti (182) and Venezuela (186).
Source: Dhaka Tribune