Palestinian President Mahmoud Abbas has termed Bangladesh an 'unflinching proponent' of his people's just causes.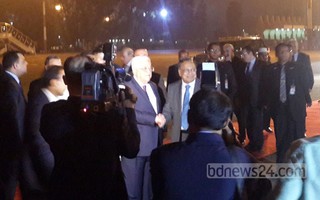 The foreign ministry said he expressed "deep gratitude" for Bangladesh's "continued support and assistance" to Palestine. He held a meeting with Bangladesh Foreign Minister Abul Hassan Mahmood Ali.
The two dignitaries met at Hazrat Shahjalal International Airport early Sunday when the Palestinian President made a stopover for over an hour on his way to Japan from Jordan.
The foreign minister received him at the airport around 12.45am.
The Palestinian embassy said this visit was in appreciation of Bangladesh's continuous support to the Palestinian cause.
Mahmoud Abbas
Bangladesh has consistently backed the demand of the Palestinian people for an independent and viable state with East Jerusalem as its capital.
Dhaka also condemns the Israeli occupation, demanding Palestine's "full membership" of the UN.
President Abbas briefed the foreign minister on the updates on the Israeli "atrocities" on the Palestinian people and land as well as the longstanding impasse on the peace process.
He also thanked Dhaka for giving higher studies opportunities to a good number of Palestinian students as well as for training members of the Palestinian armed forces in Bangladesh.
The foreign minister conveyed greetings of President Md Abdul Hamid and Prime Minister Sheikh Hasina to the Palestinian President.
He reaffirmed the "unwavering commitment" of Bangladesh to the Palestinian people for their struggle for an independent homeland.
He also called upon the world leaders to take urgent and meaningful initiatives to resolve the Palestinian issue.
Ali informed the President that Prime Minister Sheikh Hasina remained vocal in the UN, OIC, NAM and other international fora in support of Palestinian causes.
The foreign minister also extended an invitation to the Palestinian President and also to the Palestinian foreign minister for a bilateral visit to Bangladesh to witness "the enormous goodwill of the people of Bangladesh for Palestine".
Palestinian Foreign Minister Riad al Malki, presidential spokesperson Nabil Abu Rodini, Special Advisor of Diplomatic Affairs Majdi al Khalidi, and Special Economic Advisor Mustafa Abu al Rob were part of the President's entourage.
Bangladesh's State Minister for Power, Energy and Mineral Resources Nasrul Hamid, and all the Arab Heads of Mission in Dhaka were also present at the airport to greet the President.
Source: bdnews24