The Daily Star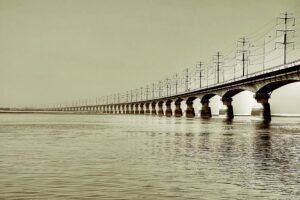 Around 45 percent pot bearings, a vital element for load transmission, of Bangabandhu Bridge have been found problematic and require replacement.
Although experts don't see any immediate threat to the 4.8-kilometre bridge due to the problem, they said delay in replacement may cause damage to the large structure.
Bridges Division has already directed the authorities concerned to take necessary steps to replace those bearings after communicating with the Italian company which supplied those.
The country's largest bridge on the Jamuna river, which was opened to traffic in 1998, is a vital strategic economic road, rail, energy and telecommunication link between its northern and southern parts.
Bridges Division on August 24 held a meeting on the operation and maintenance of the bridge, with its Secretary Abu Bakr Siddique in the chair.
Italian company FIP Industrial had supplied the pot bearings and as per the bridge maintenance manual, the service life of the bearings is between 20 to 30 years, shows the meeting minutes.
Pot bearing is a special type of bridge bearing used for transmission of load from superstructures to piers and absorb vibration caused due to the movement of vehicles, experts said.
China Communications Construction Company Limited (CCCC)is the Bangladesh Bridge Authority's operator for maintenance and operationof Bangabandhu Bridge.
A CCCC report said problem surfaced in around 45 percent of 112 bearings' pad, shows the meeting minutes.
Prof Khan Mahmud Amanat of Buet civil engineering department said service life of a pot bearing used in a bridge is between 25 and 30 years. He said problems in 45 percent bearings would not pose any immediate risk to the bridge.
The problem gives an indication that service life of the bearings has been over and they need to be replaced immediately, he added.
However, a senior engineer involved in constructing roads and bridges said most of the bridges in the country lack regular and periodic maintenance.
He said problem in around 45 percent bearings of Bangabandhu Bridge also indicates a lack of regular and periodic maintenance of the structure, he said wishing not to be named.
Different types of problems would surface if the bearings are not replaced on time, the engineer said.
Both the experts said replacing bearings is very technical work and it may take several months to replace all the problematic bearings. They, however, said it is possible to change those keeping the bridge operational.
Bridge Division Secretary Abu Bakr Siddique, also the executive director of Bangladesh Bridge Authority, said they have already directed the authorities to communicate with the Italian supplier to replace the bearings.
"If they can't supply the bearings, we will look for other sources," he told The Daily Star yesterday.