Bank recovered Tk 200cr in Jan-Sept of annual target of Tk 1,260cr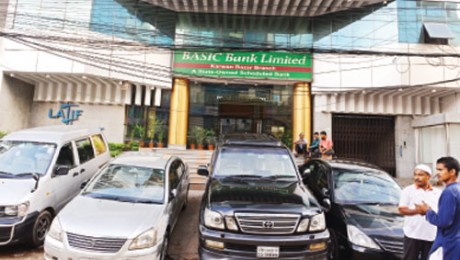 The top 50 defaulters of BASIC Bank hold 83.99 per cent, or Tk 3,482.58 crore, of the bank's defaulted loans as the management of the state-owned bank did not take adequate measures to recover the non-performing loans.
According to the latest Bangladesh Bank data, the top 50 defaulters held the sum in defaulted loans as of November 15, 2015 while the total defaulted loans of BASIC Bank were Tk 4,146.06 crore as of September 30, 2015.
The central bank earlier signed a memorandum of understanding with BASIC Bank to develop its financial indicators as a number of non-existent companies embezzled more than Tk 4,000 crore between 2011 and 2012 in collaboration with the then directors and senior officials of the bank.
The BB asked the bank to recover defaulted loans of Tk 1,260 crore in this year, but the management of the bank recovered only Tk 199.88 crore in the first nine months of 2015.
The central bank's data, however, showed that the defaulted loans at BASIC Bank decreased significantly at the end of September compared with that of December 2014 as the bank rescheduled huge amount of loans in recent months, enjoying the central bank's relaxed rescheduling policy.
The defaulted loans at the bank were Tk 6,309.88 crore as of December 31, 2014.
The BB data showed that the bank had rescheduled Tk 1,915.54 crore in recent months that played a role in decreasing its defaulted loans.
A BB official told New Age on Monday that the rescheduled loans would turn into defaulted ones again as the defaulters enjoyed the facility of the central bank's relaxed rescheduling policy.
The top 20 defaulting companies of the bank are OPE Properties Ltd which defaulted on loans of Tk 134.49 crore as of November 15, 2015, Delta Systems Ltd Tk 128.42 crore, MA Tex Tk 111.22 crore, Profusion Textiles Ltd Tk 108.59 crore, New Auto Define Tk 101.87 crore, RK Foods Ltd Tk 97.63 crore, FEAZ Enterprise Tk 93.73 crore, Map Paper Board Mills Ltd Tk 91.58 crore, Techno Design and Development Ltd Tk 91.55 crore, Shifan Shipping Line Ltd Tk 88.68 crore, RI Enterprise Tk 86.71 crore, Monica Trading International Tk 83.48 crore, SA Traders Tk 83.40 crore, Asian Food Trading and Companies Tk 78.94 crore, S Resources Shipping Line Ltd Tk 78.90 crore, SFG Shipping Line Ltd Tk 77.86 crore, Brothers Enterprises Tk 76.02 crore, Surma Steel and Steel Trading Tk 73.68 crore, Western Housing Ltd Tk 71.48 crore and Ali Trade International Ltd Tk 70.11 crore.
The BB official said that the bank had not enough information about the top defaulting companies as most of them have no existence.
Former BASIC Bank chairman Abdul Hai Bachchu played the key role in sanctioning the loans violating rules and regulations.
Bachchu resigned from the board of the bank following a government's directive amid huge criticism.
The BB official feared that the defaulted loans would not be recovered as majority of the top defaulting companies have no existence.
Besides, BASIC Bank's management is yet to take effective measures to recover the defaulted loans as its loan recovery process is highly slow.
Despite repeated attempts, BASIC Bank chairman Alauddin A Majid and managing director Khondoker Md Iqbal could not be reached over mobile phone to get their comments on the loan recovery issue.
Source: Weekly Holiday