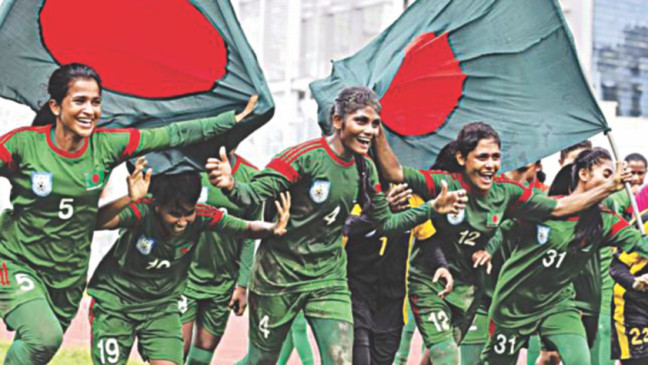 The point is that with our exposure to global or regional sporting circuits and women clinching laurels on them, some are yet to display a matching cultural uplift to gracefully embrace the positive transformation.
The upward curve in girls' football is so impressive: We have defeated Maldives, Iran, even Taiwan, Kyrgyzstan before crushing UAE to stay undefeated through the qualifier round.
What is highly interesting to note is that village Kalsindur alone has contributed nine footballers to the team. Soccer experts suggest that the Mymensingh-Kishoreganj-Netrokona-Sunamganj belt has been the breeding ground for good footballers among men as well as women. The haor areas with open spaces may be conducive to supply of footballers. We may not be too hung up with place names; instead scout for talents all over the country.
The private sector including corporate houses and sponsors will have to come forward in patronising sports on a programmatic basis. As the government sets up facilities and modernises sport infrastructure, event management is largely in the hands of cash-strapped federations who have to depend on sponsors.
Women should be encouraged in individual and in group events like for instance shooting, chess, archery, weight lifting, kabadi, swimming, cricket, football and hockey. We have had two iconic women mountain climbers bearing testimony to the grit, determination and skill levels displayed in pushing new frontiers in the sporting world.
In all, there is a paramount need for a structured approach to sports that will not just help consolidate the gains but build on them to ensure sustainability of successes and continuous bettering of records.
With a huge youth population we are ideally placed to develop a groundswell of sporting talents. The best antidote to drugs and extremism which are intertwined addictions is offered by the passion and pursuit of sports.
Source: The Daily Star