Footage of assault go viral on social media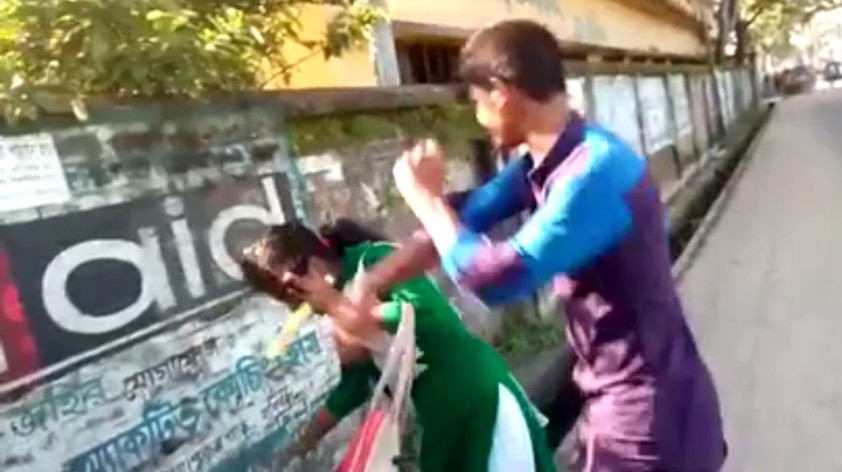 Footage of a schoolgirl being beaten up by a schoolboy in Sadar upazila of Habiganj has triggered a huge public outcry.
Police yesterday arrested the assaulter, Ruhul Amin, after the footage went viral on the social networking site Facebook.
The arrestee, a class-IX student of Habiganj High School, was picked up from Richi village of Sadar upazila around 1:00pm, said Nazim Uddin, officer-in-charge of Habiganj Police Station.
Ruhul, a resident of Urigram in Baniachang upazila, stays at his maternal grandfather's house in the Sadar upazila.
The incident took place on August 26, 2015, and drew public attention after a 31-second video clip of the incident was uploaded on Facebook on September 1.
The video shows Ruhul blocking the class-VIII girl of Habiganj Girls High School on Rajnagar Etimkhana Road and repeatedly slapping her.
Ruhul's friend Polash, a staff of a shoe shop, shot the video of the incident and spread it among his friends.
Embarrassed, the victim stopped going to school for two days after the incident spread out in the locality.
Ruhul's mother Esha Khatun said the victim's brother had beaten up her son earlier for stalking the girl. "So he [Ruhul] took revenge."
After the video was released, people called upon the law enforcers to trace the assaulter and bring him to book.
Meanwhile, locals yesterday formed a human chain in front of Saifur Rahman Town Hall in the town, protesting the incident.
Shamima Akhtar Chowdhury, head teacher of the girls' school, said the victim's guardian did not complain about the matter. "Several stalkers were detained by the law enforcers after we reported such incident to the police."
She demanded exemplary punishment of the assaulter.
Source: The Daily Star