Back its welcome emphasis on decentralisation with faster connections to maximise benefits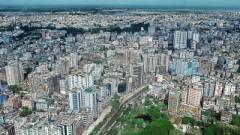 We welcome the goals being advanced by the newly proposed National Urban policy to move towards greater decentralisation and ensure better protection for environmentally sensitive areas.
The policy which has been put out for consultation is a tangible sign that the government is at last listening to the many concerns citizens have expressed about the negative consequences of unplanned urban development.
It is encouraging that the proposed policy is starting to take a proper long-term nationwide view and is aimed at improving our systems for allocating and managing land use.
The policy, if passed, will incorporate community planning and participation to decide on setting-up and managing parks, playgrounds, rivers, canals, local wetland, and waste management systems. Its 23-point plan will set new targets to develop city slums, reduce urban poverty, and improve law and order.
We strongly support the new emphasis provided by the plan on ensuring proper protection for wetlands and river systems, and explicitly seeking to decentralise the most densely populated cities and steer more large investments across the nation.
To achieve this, the government also needs to ensure significantly more investment in transport infrastructure. If we are to maximise the benefits of our small land area and large population, we need all parts of the country to be served by fast railways and modern highways.
Enabling people to commute longer distances would not only reduce pressure on our major cities, but create the conditions to spread investment and the benefits of development across the nation.
Source: Dhaka Tribune