Steve Chabot assures of discussing it with Congress colleagues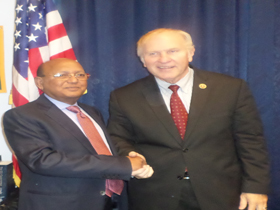 Commerce Minister Tofail Ahmed has requested US Congressman Steve Chabot to support Bangladesh for GSP restoration as well as granting duty-free market access of Bangladeshi apparels to the US market.
In response, Chabot, also Chairman of the US Congress Sub Committee on Asia and the Pacific said he would keep on discussing with his colleagues in the US Congress over restoration of GSP benefit for Bangladesh.
The issue came up for discussions during a meeting between them held in Washington recently, according to a message received here on Friday night.
Earlier, the government submitted a progress report on 'Bangladesh Action Plan 2013' to the office of the United States Trade Representative (USTR) for reviewing Bangladesh's Generalized System of Preferences (GSP) benefits.
The legal authorisation for the GSP programme expired on July 31, 2013 and the US Congress is considering a legislation that would extend the authorisation of GSP beyond this date, according to the USTR.
Bangladesh's main export apparels had always remained out of the GSP purview, subjecting garment makers to 15.61 percent duty in the US markets. Before GSP suspension, Bangladesh used to export 0.54 percent of its total export, or $26 million, under the GSP scheme to the US in a year.
During the meeting with Tofail, Chabot wanted to know about the January 5 elections in Bangladesh. In response, Tofail said it was a constitutional obligation for the government to hold the elections in time to ensure the smooth transition of democratic process.
He also said the opposition political parties boycotted the elections jeopardising the political stability in the country despite repeated initiatives taken by Prime Minister Sheikh Hasina.
Congressman Chabot said Bangladesh is an important partner of the USA, and both the countries are closely working on counterterrorism, climate change, democracy and human rights.
He praised Bangladesh for its impressive social development and economic growth.
Tofail Ahmed also met a panel of Congressmen and Congresswoman consisting of Joseph Crowley, also co-chair of the Bangladesh Caucus, Eliot L Engel, Grace Meng, George Miller and Jan Schakowsky.
The Commerce Minister briefed that on the RMG workers' rights and safety issues in Bangladesh.
Later, he held a meeting with a panel of five Democrat Congressmen who have been demonstrating serious interest in Bangladesh's RMG industry in recent years.
He briefed them on social and economic growth, export volume, export diversifications, workers' wages and a comprehensive action plan on the workers' rights and safety in Bangladesh's RMG sector.
BGMEA President M Atiqul Islam, BKMEA first vice president M Hatem and high officials of Bangladesh Embassy in Washington were present.
Source: UNBConnect