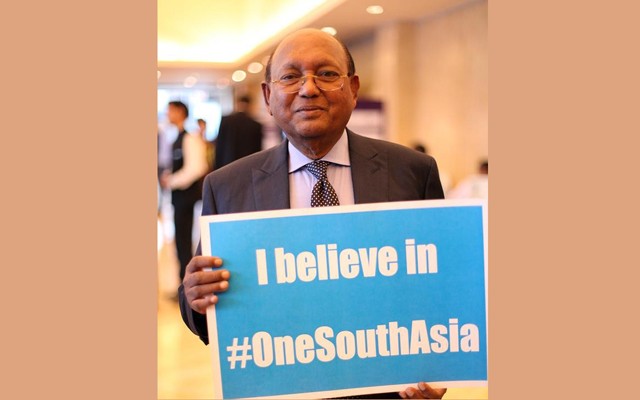 Bangladesh's economic growth is not possible without a higher level of regional integration in South Asia, Commerce Minister Tofail Ahmed has said.
Addressing the South Asia Economic Conclave in Delhi on Tuesday, he said Bangladesh can achieve its ambitious growth targets only if it can access regional markets and resources like power from its neighbours without hurdles.
"We have a great stake in the success of South Asian economic integration."
Ahmed said a great start has been made through the BBIN process and the Motor Vehicles Agreement.
"That is a great start to the freedom of travel within the region, but we need that spirit to percolate to all aspects of regional trade and economy."
Ahmed, however, hinted at Bangladesh's unhappiness at 'some obstacles' created for its jute exports to India.
"We are grateful to India for opening its markets for our products through duty-free access, but we face barriers again and somewhat unexpectedly.
"For example, all of a sudden, we find obstacles for our jute exports to India. Such problems should be ironed out sooner than later," Ahmed said.
The commerce minister said Bangladesh took the initiative to create the SAARC because it 'seriously believed in regionalism'.
"We started from zero because our economy and our infrastructure was devastated during our 1971 Liberation War.
"We have come quite far from there, but we can achieve the Vision 2021 of our prime minister only if we have free access to regional markets and resources available in the region," said Tofail Ahmed.
He said Bangladesh's exports were a meagre $ 48 million in 1972-73; it is now touching $32 billion.
He said in 2021, Bangladesh is seeking to earn $ 50 billion only from export of readymade garments.
Remittances have touched $16 billion and foreign exchange reserves have crossed $26 billion.
"But our progress can be sustained and our ambitions can be achieved only if have access to regional markets and to its resources like power," he said.
Throughout the deliberations in the Conclave, Bangladesh's success in ensuring inclusive economic growth, in improving its human development indicators and in achieving high level of success in mass manufacturing competitiveness has been lauded by global and regional experts.
Ahmed said the economy in South Asian region will not improve unless the condition of the poor is improved. "We still have a large number of poor people in the region. No growth will be sustainable unless it is pro-poor."
"As such, labour-intensive industries and agriculture deserve special attention. Our development goals should be geared towards increasing decent employment for the poor, particularly the people living in the margins," he said.
"We have to shift our focus to manufacturing and service sectors. In the past we remained focused, and perhaps were forced to remain focused on agriculture. But agricultural growth has certain limits and it is most vulnerable to natural calamities.
"We have to transform attention cautiously from agriculture to manufacturing and service sectors. This is new world order – unless we respond to it, we will not be able to achieve the level of prosperity that we are looking forward to."
Tofail Ahmed late paid a courtesy call to Indian president Pranab Mukherjee.
Source: Bd news24