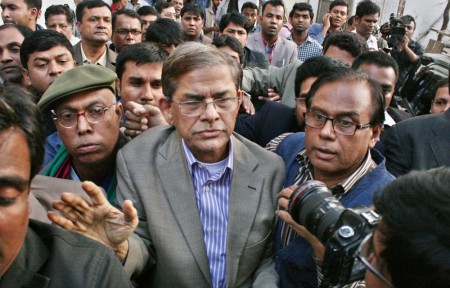 The Supreme Court has granted a six-week bail to BNP acting secretary general Mirza Fakhrul Islam Alamgir on medical ground, paving the way for his release from jail.
A Four-member bench of the Appellate Division headed by Chief Justice Surendra Kumar Sinha passed the order on Monday morning, after receiving a report on the health condition of the politician from the Bangabandhu Sheikh Mujib Medical University.
BNP chairperson's advisor Advocate Khandaker Mahbub Hossain told the Dhaka Tribune: "There is no legal bar for Fakhrul's release from jail following the order. He can also travel abroad for treatment."
However, the court asked Fakhrul to surrender before a lower court after six weeks in three vandalism and arson cases.
On July 8, the four-member bench of the Appellate Division asked the BSMMU authorities to form a medical board to examine the health condition of the BNP leader and submit a report with it.
It also said the order on the bail of Mirza Fakhrul in three cases will be delivered after his medical report is submitted to the Supreme Court.
On July 5, the same bench set July 8 to give its order on the petitions filed by the government seeking a stay on High Court order that granted Fakhrul bail.
On June 21, the High Court bailed Fakhrul in the cases and the prosecution filed separate pleas against the court order.
On Sunday, the Appellate Division upheld the BNP leader's bail in three other cases after hearing the prosecution's plea to stay that. On June 18, the BNP leader secured interim bail from the High Court in those cases.
Fakhrul is now under treatment at Bangabandhu Sheikh Mujib Medical University Hospital's prison cell.
He was detained on January 6 and was shown arrested in seven cases filed on charges of violence, arson attacks, vandalism and explosions. As the trial court did not grant him bail, Fakhrul moved to the High Court with bail petitions.
On June 13, in accordance with a High Court order, the BNP leader was shifted from Kashimpur jail to the hospital after he fell ill.
Source: Dhaka Tribune