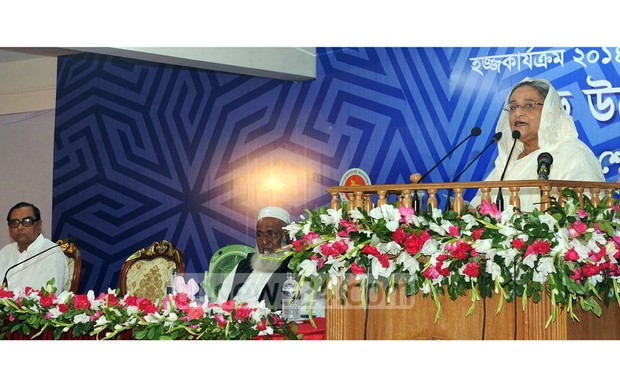 Prime Minister Sheikh Hasina has urged all not to politicise religion and thwart efforts to tarnish Islam's image by pursuing militancy and terrorism
"Islam is a religion of peace and progress. But we don't want anyone to damage Islam's image by unleashing militancy and terrorism," she said on Tuesday after inaugurating this year's Hajj programmes at Ashkona Haji Camp in Dhaka.

"Religion is holy. It must not become a weapon for politics," she emphasised.

Responding to 'misinformation being spread' about the Awami League, the party chief said, "Awami League has always tried to spread Islam.

"The Father of the Nation was always against the quarters that wanted to exploit Islam."

The prime minister mentioned her government's different steps including transportation of Hajj pilgrims, housing arrangement in Makkah and Medina.

The Hajj wing office was shifted to Bangladesh Hajj Mission in Makkah from Jeddah in 2009 and it made Hajj easier and improved services to the Bangladeshi pilgrims in past five years, she added.

Hasina also thanked the Saudi Arabian government through Saudi Ambassador to Dhaka Abdullah Bin Naser Al-Busairi, who attended Tuesday's programme, for relaxing some issues in the new Hajj management considering the problems Bangladeshi Hajj pilgrims face.


Prime Minister Sheikh Hasina speaks to hajj pilgrims on Tuesday after inaugurating the Ashkona hajj camp in Dhaka. Photo: bdnews24.com
The prime minister urged the Hajj pilgrims to pray for the people and country, its betterment and development.

She also wished for their safe return.

A total of 98,705 pilgrims from Bangladesh, under both private management and government arrangements, will take part this year in the biggest congregation of the Muslims.

Based on moon sighting, the Hajj may take place on Oct 4.

Hajj flights will start from Wednesday and end on Sept 28, while the return flights are scheduled to begin on Oct 8 and arelikely to continue until Nov 8.

Of the total 248 Hajj flights, Biman will fly 125 of them and rest 123 will be flown by Saudi Arabian Airlines and Nas Air.
Source: Bd news24