The railway authorities have removed illegal shanties and shops set up along the Khilgaon-Malibagh rail tracks in Dhaka.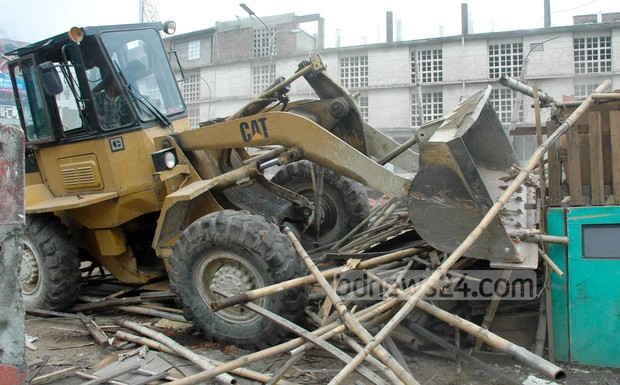 The illegal structures along Karwan Bazar railway tracks were cleared on Friday after four people had died in a train accident the day before.
Railway's Dhaka divisional Estate Officer Nurunnabi Kabir said Saturday's three-hour drive was part of their efforts to evict illegal structures.
There are allegations that drug trades and various antisocial activities were run from these places.
Moreover, temporary markets were set up along the tracks putting people at risk of being killed in train accidents.
According to the railway authorities, train accidents have killed over 200 people in Dhaka in the last nine months.
"We decided to conduct the drive after considering every aspect," Kabir told bdnews24.com.
Locals say many, including children, were at constant risk of meeting accidents in this area.
Meanwhile, in a separate development, railway authorities evicted around 100 illegal shops along the Chittagong's Sholoshohor rail tracks.
East railway's Estate Officer Jasim Uddin, who led the drive, said the shopkeepers had helped them in the drive.
Trains to Chittagong University, Najirhat and Dohazari run on this route.
Source: bdnews24