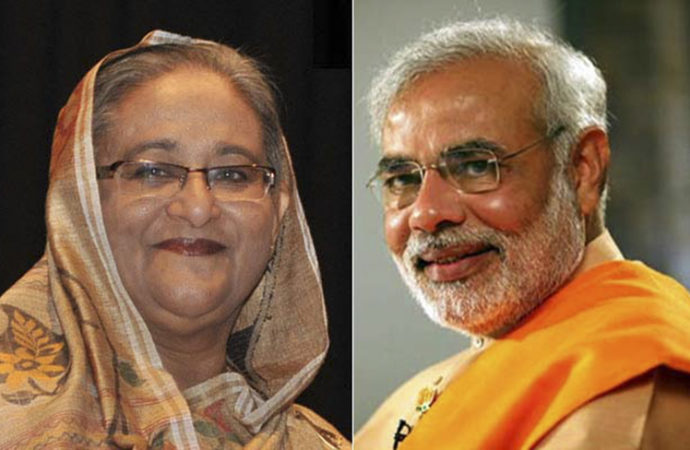 Prime Minister Sheikh Hasina's scheduled India visit this month has been postponed and it is unlikely to take place this month.
"There have been some last-minute changes. We'll soon finalise new dates for the important visit," a highly-placed diplomatic source said Thursday without elaborating the reasons behind the changes, reports UNB.
She was scheduled to leave for New Delhi on December 18 to discuss a wide range of bilateral issues with her Indian counterpart Narendra Modi.
With this visit, both sides hoped that the relations between Bangladesh and India will see a newer dimension as there will be fresh initiatives to take forward the ties to the next level.
Though the long-pending Teesta water sharing deal remains a key factor during any high-level visit, officials in Dhaka and Delhi could give no specific information in favour of any breakthrough over Teesta.
Prime Minister Sheikh Hasina, however, said she is "still hopeful" about the Teesta water sharing agreement with India but did not tell whether it will be signed or not during her New Delhi visit.
"I'm going to India, I'm not going with any conditions… discussion is on for Teesta river water sharing and we're hopeful," she told the media on Saturday.
On October 16, Hasina and Modi had a bilateral meeting in Goa reassuring that Bangladesh and India will remain together for the sake of development.
At the invitation of Prime Minister Hasina, Modi visited Bangladesh from June 6-7 last year. During the visit, Hasina requested Modi for immediate conclusion of the interim agreement on sharing of the water of Teesta as agreed upon by both the governments in January 2011, according to a joint declaration.
Prime Minister Modi, at that time, conveyed that deliberations are underway involving all stakeholders with regard to conclusion of the interim agreements on sharing of waters of Teesta and Feni as soon as possible.
The two prime ministers noted that discussions on various aspects relating to the sharing of waters of the Manu, Muhuri, Khowai, Gumti, Dharla and Dudhkumar rivers were taking place at technical levels under Joint River Commission and asked the concerned officials for taking expeditious action to conclude the sharing arrangements at the earliest.
During a visit in Dhaka in February last year, visiting West Bengal Chief Minister Mamata Banerjee urged Bangladesh to "have confidence" in her about signing the Teesta Water sharing deal.
Source : Dhaka Tribune