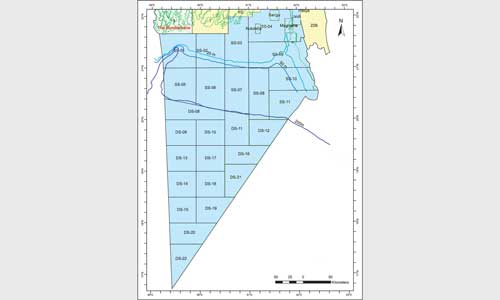 Bangladesh Oil, Gas and Mineral Corporation, Petrobangla, has floated fresh international tenders for conducting two dimensional seismic surveys on 21 hydrocarbon blocks in the Bay of Bengal to help international oil companies in offshore exploration.
The blocks cover about 81,000 square kilometres area of the Bay with the water depth between 20 metres and 2,500 metres.
Petrobangla on Monday issued a notice in this regard after it had cancelled the previous tenders without assigning a 'valid reason', officials said.
This time, Petrobangla included three deep sea blocks — 12, 16 and 21 — for which it is negotiating with Norwegian company Statoil under revised Model Production Sharing Contract- 2012.
Statoil in a joint-venture with the US oil giant ConocoPhillips won the tenders which Petrobangla had floated in late 2012. The JV started pushing the government to raise the price of gas which Petrobangla would buy from it.
Conoco pulled off the JV last year after it had relinquished two deep sea blocks 10 and 11 saying that the fiscal terms were not viable.
In 2011, Petrobangla awarded Conoco the two deep sea blocks under Model PSC- 2008.
The government plans to provide the international 'oil and gas industries with 2D Non-Exclussive Multi-Client seismic data of the offshore areas of Bangladesh in order to help them with basin evaluation, prospect generation and robust bid round participation, officials said.
They said that the government would float international tenders for oil and gas exploration in the Bay after completion of the multi-client survey.
Petrobangla, deals with the matter on behalf of the government.
An energy division official told New Age that the 2D data would encourage the IOCs to bid for the prospective blocks.
According to the notice, Petrobangla would not pay the awarded companies for the survey, instead they would be allowed to trade the data with the IOCs to be interested in taking part in the next offshore bidding.
The companies would share the profit and data with Petrobangla.
It would be a 10-year agreement, under which the survey companies would get two years for data acquisition, processing and interpretation.
The bidders would have at least the offshore survey experience in three different countries, the Petrobangla notice said.
The interested companies were asked to drop the bids by 11:00 am (Bangladesh Standard Time) on January 31, 2016.
Source: New Age