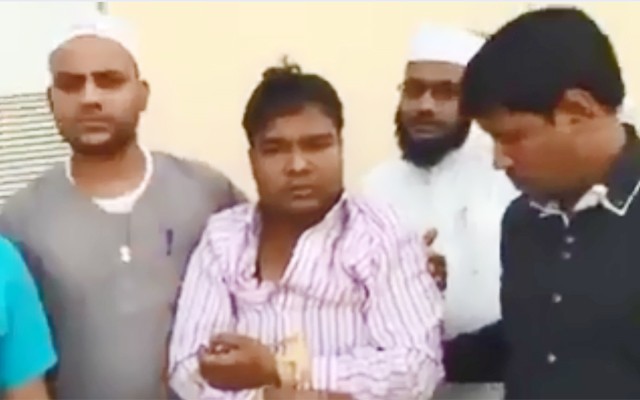 One of the four men charged with the murder of 13-year old Samiul Alam Rajan has been arrested in Saudi Arabian city of Jeddah.
The Bangladesh embassy, with the help of the local police, took Kamrul Islam into custody on Monday local time, Ambassador Golam Moshi told bdnews24.com.
Twenty-four-year old Islam, a Saudi expatriate, had left Bangladesh after he and several others allegedly had brutally beaten Rajan to death on July 8 in Sylhet's Kumargaon and released the video clip of the gory murder on the internet.
The 28-minute video clip created a firestorm on the social media as it went viral.
Moshi on Monday night said the embassy started looking for Islam following orders from State Minister for Foreign Affairs Shahriar Alam.
Alam is currently in Saudi Arabia on a state visit to pay respect to Prince Saud Al Faisal, who died on July 10.
"After he arrived here, he (Shahriar) asked us to get him (Islam) in the embassy's custody at any cost if he is here," Moshi said.
"We started looking for him. After we found his address with the immigration department's help, he was detained and brought to a local police centre.
"He (Islam) is in our custody," said the Bangladesh ambassador.
The process to send Kamrul Islam back home would have to be handled by both the home and foreign ministries, he added.
"The Eid holidays have already started here (Saudi Arabia). We're trying to extradite him.
"But I don't think that will be possible before the Eid," Moshi said.
Although Islam managed to flee the country a day after the murder, locals had caught his brother Muhit Alam on July 8 when he was on his way, in a microbus, to dump Rajan's body.
They later turned him over to police.
State Minister for Home Affairs Asaduzzaman Khan Kamal on Monday said he had told police to arrest those involved in the incident as soon as possible.
Police, earlier in the day, were given five days by court to question Alam in their custody.
His wife Lipi Begum was also detained from their Sheikhparha residence Monday evening for questioning.
Police in the morning also took another suspect, Ismail Hossain Ablus, 22, into custody in connection with the killing.
The Jalalabad police had filed the murder case after the incident.
Apart from Alam and Islam, the two other accused in the case are their associates Ali Haider, 34, and security guard Moyna Mia, 45.
Both are absconding.
Raids to arrest the two were on, said Sylhet Metropolitan Police Additional Deputy Commissioner Rahmat Ullah.
The senior police official, who is leading a special team formed to hunt down the absconders, added, "We started our work from last night (Sunday). They will be arrested soon."
Source: Bd news24