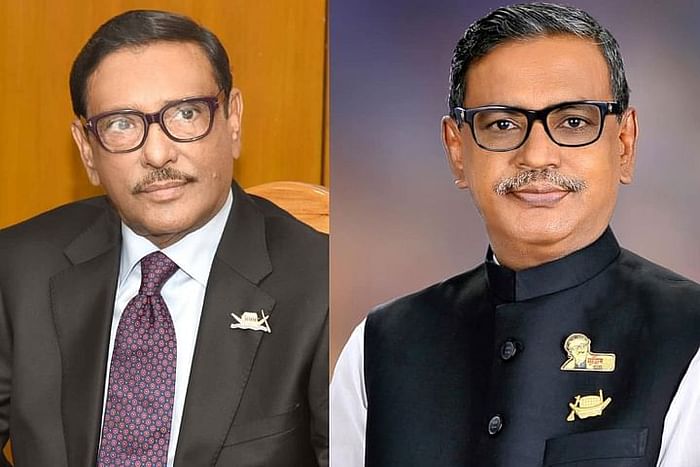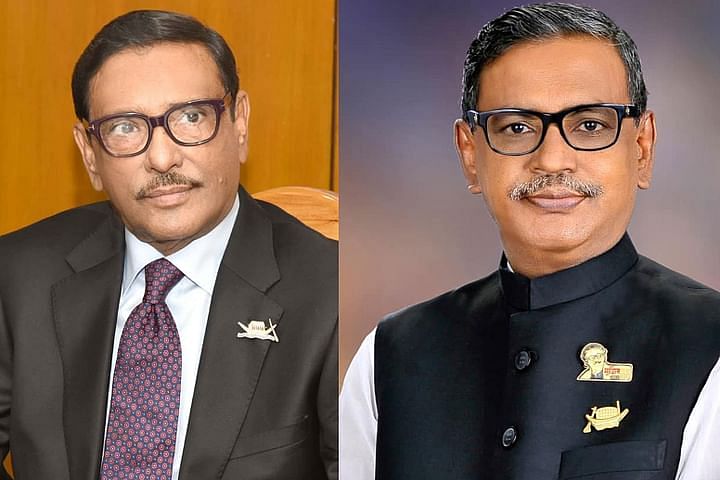 There has been a discussion in Noakhali, especially in the Companiganj and Kabirhat area, that Obaidul Quader is going to be the next president of the country. In that case, his constituency, Noakhali-5, (Kabirhat-Companiganj) will be vacant.
Who will be nominated from the party in this constituency? Who will be the successor of Obaidul Quader, his brother, wife or anyone else? In fear of conspiracy within his family or from outside, Abdul Quader Mirza has become proactive to hold his position.
Abdul Quader Mirza is the younger brother of Awami League general secretary and road transport and bridges minister Obaidul Quader. He is also the newly-elected mayor of Basurhat municipality.
About two and a half months ago, he made allegations of discrepancies including tender manipulation, extortion, and recruitment business against several Awami League leaders including two MPs from Noakhali and Feni who are known to be very close to his brother Obaidul Quader. He also made allegations against Obaidul Quader's wife. He even accused Obaidul Quader of "patronizing anti-politics in the area".
However, when Obaidul Quader was undergoing treatment in Singapore, his wife Ishratunnesa requested some of the central leaders to dissolve the Companiganj upazila Chhatra League committee. This activity of his sister-in-law raised doubts in Quader Mirza's mind. The latest discussion about Obaidul Quader becoming president intensifies his suspicion and he has become active in strengthening his position to become his brother's successor.
Current president Md Abdul Hamid took oath as the president for the second term on 24 April 2018. According to that his tenure will end on 23 April 2023. There is no discussion regarding the post of the president in the national politics right now. There has been no discussion regarding who will be the next president, in the ruling party Awami League either.
However, last Tuesday and Wednesday, rumours have been heard in his Companiganj and Kabirhat upazila that Obaidul Quader is becoming the next president. This reporter talked with six local Awami League leaders and two officials of the local administration regarding the situation in Noakhali. Confirming about the rumour, they said the rumour has spread among the general people also.
This reporter talked with Al Amin, a first year student of Kabirhat Government College, on Tuesday at noon at Kabirhat bazar.
"Earlier, we talked with the president of Companiganj upazila Awami League and senior leader, Khijir Hayat Khan at Basurhat bazar. Both, the young and the senior citizen of two upazila said that they have also heard the rumour that Obaidul Quader is becoming the president.
When asked whether he has talked with Obaidul Quader regarding this, Khijir Hayat Khan said with a smile, "I have also heard that Obaidul Quader can be the next president of the country. I do not know anything else and do not want to comment on this."
Mizanur Rahman, the secretary of Companiganj upazila Awami League also confirmed the rumour. He told Prothom Alo, "Someone has told Quader Mirza that if Obaidul Quader becomes the president, his wife will be nominated from this constituency for the MP election. Although there are some financial issues, the main reason behind Quader Mirza's activity is this."
When asked about this, Quader Mirza told Prothom Alo, "Obaidul Quader is becoming the president. This is why his wife is so desperate to become the MP. However, I do not think that our leader (Sheikh Hasina) would make such a mistake."
The election of Basurhat municipality was held on 16 January. On 31 December, Quader Mirza declared his election manifesto. His speech on that day went viral on Facebook and created a massive discussion nationwide. The summary of his speech was that if a fair election is held, Awami League leaders except two or three would not find any door to flee. He also demanded for a fair election.
Obaidul Quader's constituency, Noakhali-5 comprises Companiganj and Kabirhat upazila. Obaidul Quder's home is in Companiganj. Quader's family controls the party activity there. Nearby Kabirhat upazila is under the control of Ekramul Karim Choudhury, the general secretary of Noakhali district Awami League and MP of Noakhali-4 constituency, as his home is in Kabirhat.
In the past, the election results of this area had shown the popularity of the two leaders in two different upazilas. Such is the situation that if anyone wants to win from this constituency, he or she has to have back of Ekramul Karim Chowdhury. In the national polls of 1996, Ekramul stood against Obaidul Quader as an independent candidate and got 40,000 votes. BNP candidate Moudud Ahmed won the election that time.
Local politicians said, despite being elected as the MP from Noakhali-4 constituency for three consecutive times, Ekramul Karim Chowdhury never neglected his birthplace Kabirhat. His wife Kamrunnahar is the chairman of the Kabirhat upazila parishad. He is also involving his son Atahar Ishrak Sabab Chowdhury into politics too. Ishrak organised the leaders and activists of the party during his mother's election. In recent times, Ishrak was included in the proposed Awami League committee as the youth and sports secretary. However, his name was withdrawn due to massive criticism.
Last Friday, MP Ekram told the activists of the party at Char Jabbar in Subarnachar upazila in Noakhali, "The prime minister wanted to know who controls Noakhali? I have told a person close to the prime minister that I control Noakhali."
However, while talking about Quader Mirza's activity earlier, MP Ekram told Prothom Alo, "It is a matter of the Companiganj Awami League. Obaidul Quader is engaged in higher levels of politics. I think he does not take any decision that could affect his family and party. What happened there is completely an individual matter."
Speaking to the local leaders it was revealed that the dispute between Obaidul Quader's wife Ishratunnesa and Quader Mirza began two years ago. The matter was revealed for the first time during the election of Companiganj and Kabirhat upazila parishad.
Ishratunnesa Quader wanted to nominate former chairman Mizanur Rahman alias Badal in the Companiganj upazila parishad election. But he was not nominated due to the objection of Quader Mirza.
Mirza's candidate Sahabuddin won there. In the neighbouring Kabirhat upazila, Ishratunnesa supported party's rebel candidate Ala Box Taher (Tit). Quader Mirza supported Kamrunnahar, the wife of Noakhali MP Ekram Chowdhury. Kamrunnahar won the election.
Obaidul Quader was taken to Singapore when he fell ill in the midst of a dispute between his wife and brother. According to Quader Mirza, after his brother recovered and returned home, he along with his wife and childrenwent to his house in Dhaka to see his brother. But Obaidul Quader's wife asked them to leave the house.
After becoming the mayor in the municipal elections last January, he went to his brother's house in Dhaka again to greet close leaders and activists. This time, Obaidul Quader's personal assistant told them not to meet Obaidul Quader at his house during the coronavirus pandemic. They were advised to go to the Awami League office instead.
On Tuesday, surrounded by more than a hundred leaders and activists, Quader Mirza lamented at his municipal office and told Prothom Alo, "They have seen that my face turned black that day in shame. But I did not say anything, I just left. However Nizam Hazari, Swapan Miaji have full access to my brother's house. Why? Nizam Hazari is the MP of Feni and Swapan Miaji is the Mayor of Feni municipality.
Obaidul Quader  in dilemma
Companiganj upazila Awami League's president Khijir Hayat Khan said, "Mirza thinks that he is the only one who has won in a fair election. After getting 66 per cent votes in EVM (electronic voting machine), he is thinking he is the most popular person in Bangladesh after Sheikh Hasina. He is even undermining his brother Obaidul Quader. Young activists were giving slogans in the name of Obaidul Quder and Quader Mirza shut them up and said no slogan for a corrupted person. Now you assess the situation."
The local politicians are saying, although Obaidul Quader was silent in the issue at first, later he decided to create pressure on his brother. However, there are talks in the area that Obaidul Quader also supported his brother's activity in the beginning. However, he moved away as Quader Mirza went beyond control. Quader Mirza has told Prothom Alo, "Obaidul Quader called me. But I did not receive his call. He is now trying to pressurise me through administration."
Prothom Alo tried to contact Obaidul Quader for his comment on the issue. When contacted over the phone, he did not receive. Later, a text message was sent via mobile phone. As he did not reply, an email was sent including the questions to the deputy chief information officer of Obaidul Quader's ministry, Abu Naser. But there was no answer to the email as well till Saturday evening. Later, Prothom Alo contacted Abu Naser over the phone. At that time he said, "I have talked with the minister about the email sent by Prothom Alo. Regarding Quader Mirza's allegations against him and his wife he said that the prime minister is overseeing the issue, she will sort it out. And regarding the discussion about being the next president, Obaidul Quader said that these are rumours. The current president still has his tenure. Besides, he does not think himself efficient enough for the post."
*This report, originally published in Prothom Alo print and online edition, has been rewritten in English Ashish Basu.