Boy falls into 400-foot-deep well shaft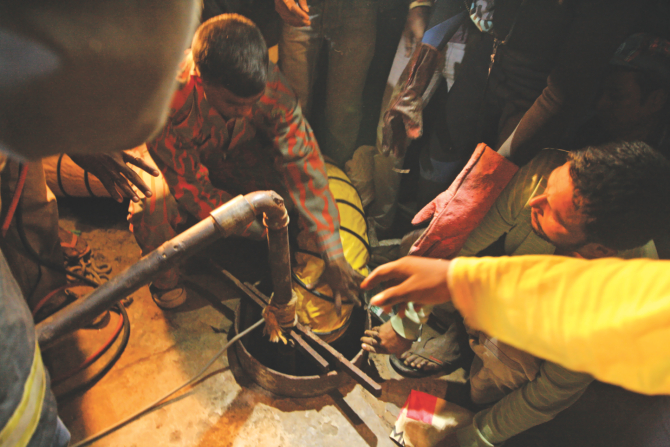 In a nerve-racking incident, a four-year old boy fell into a 400-foot deep abandoned well shaft at Shahjahanpur Railway Colony in the capital yesterday afternoon.
Fire service personnel with the help of police made several abortive attempts to pull out the boy, identified only as Zihad, by lowering in a rope with a sack tied to it.
Juice packets were sent and oxygen was being pumped into the hole to keep the boy, son of a local school guard Nasiruddin, alive.
The child fell inside the 14-inch diameter shaft, around 40 yards from his house, around 4:00pm while playing with other children.
The hole reinforced with steel pipe would be used for pumping out underground water but had been abandoned for around a year with allegedly no lid over it.
Belal Hossain, who first informed the Fire Service and Civil Defence of the incident, said while he was going to his shop by the playground around 4:10pm, a little girl named Fatema ran to him and said one of her playmates had fallen inside the hole.
He immediately raised an alarm to gather more people. They tried to pull out the boy using a rope but failed.
Then around 4:35pm, Belal informed the firemen, who quickly reached the spot.
Major AKM Shakil Newaz, director operations of the Fire Service and Civil Defence, was overseeing the rescue operation conducted by six firefighting units.
He said the boy is believed to be stuck 400-foot deep inside the well.
People who were present there said they could hear whimpers and cries of a boy from inside the shaft.