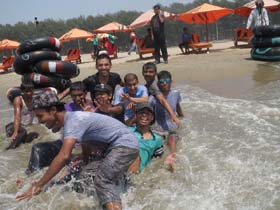 The government urgently needs to take an effective safety plan with modern warning system and launch awareness drive to avert human tragedies in the country's major tourist hotspots — Cox's Bazar sea beach and St. Martin's Island — as such tragedies discourage tourists both from home and aboard, according to tourists and experts.
They say a research can be conducted analysing the safety measures taken by other countries in the world to ensure safety for tourists so that tours for recreation and fun do not end up in disasters.
A stronger role of Beach Management Committee can also help avert repetition of such accidents that bring immense agonies for the victims' families apart from tarnishing the country's image among global tourists, they observe.
"I think there's a need for doing research through analysing how safety issues are being dealt with in other beaches in the world," Lt Shahid Al Ahsan, St Martin's station commander of Bangladesh Coast Guard, told UNB.
Ahsan, who dealt with rescue operations in the recent accident at St Martin's Island in Cox's Bazar, thinks three safety measures must be there in beaches –lifeboat, lifeguard and safety swimmer (specialist swimmer to assist tourist).
"Most importantly, awareness at individual level is a must," he said adding that most of the victims are young and educated.
Former Civil and Tourism Minister Faruk Khan expressed disappointment at the non-implementation of some of the initiatives taken during his tenure to ensure safety for tourists in Cox's Bazar.
"I've directed to install a protective wire (security net in seawater to certain distance) in the entire beach area to avert accidents. But it remains unimplemented," Khan, also Chairman of the Parliamentary Standing Committee on Civil Aviation and Tourism Ministry, told UNB.
He said he will raise the safety issues in the next meeting of the JS body to take proper steps for ensuring required safety for each tourist.
Responding to a question, Khan said he took some tourist-friendly steps like specification of foreign zone, swimming zone and sports zone.
The Beach Management Committee that comprises with local businesspeople, local elite, police, coastguard and local administration needs to play a stronger role to that end, he added.
Talking to UNB, Civil Aviation and Tourism Minister Rashed Khan Menon said he has already directed the Bangladesh Parjatan Corporation (BPC) to look into a safety issues and reasons behind the recent accident at St Martin's Island.
"They (BPC official) will make recommendations after the assessment and steps will be taken as per recommendations," he said.
Talking to this correspondent, Rashedul Hasan, a frequent traveller, said: "It's usual for young guys to be adventurous. It's true that risk is associated with any adventure. But the authorities must ensure safety for the tourist."
He said the incidents of drowning or missing in Cox's Bazar sea beach and St Martin's Island simply leave discoursing note for the tourists both at home and abroad.
"At this age of technology, such bad news spread all over the world through social networking platform and media outlets," said another traveller Arifuzzaman Amiree urging authorities to take steps for smooth recreation trips for the visitors.
"I can't imagine that there had been no doctor at St Martin's Island during the recent accident despite having a Health Complex there," he said mentioning it is a gross failure of the authorities because it also deprived residents of the Island of necessary healthcare services.
According to Yasir Life Guard, a private agency that conducts rescue operations at the beach, divers alone recovered over 100 bodies and have saved over lives from drowning in the past 17 years.
Yasir Life Guard, an initiative of Duncan Company, was launched in 1996 in memory of Minhaj Uddin Yasir who met his tragic end while swimming at the beach. The agency has been rescuing people from the turbulent seawater ever since.
Usually, lifeguard members and beach activists are deployed at Cox's Bazar and similar trained lifeguard will be deployed at St Martin's Island too, local sources said.
At least 10 students of Ahsanullah University of Science and Technology went swimming at Prince Heaven Point of St Martin's Island in Cox's Bazar on Monday last but a surge of water swept them away.
Locals and coastguards rescued six of them but two of them died afterwards. Two more bodies were also recovered later though the rescuers could not find the bodies of the rest two students.
Source: UNBConnect