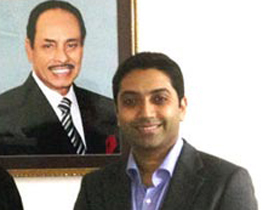 Bobby Hajjaj, special adviser to Jatiya Party Chairman HM Ershad, has claimed that there has been no change in Ershad's stance to boycott the January 5 polls election.
"…so, I would like to make it clear for those (a faction of JP leaders) who are joining the January 5 polls with a wrong perception that JP chief Ershad is not going to polls," he said in a video message explaining Ershad's latest position.
Hajjaj also said he has come up with the message as they have been receiving constant queries about Ershad's latest position on the January 5 election.
The video clip showed that Bobby Hajjaj was reading out a written statement and a banner seen behind him that reads 'Jatiya Party, UK'.
He also said the JP Chairman had always talked about a democratic election and an election that is free and fair, and Ershad is still in his unchanged position. "And Inshaallah, he won't change his mind in the future either."
Bobby Hajjaj also said the participation of all parties is a must to have an 'all-inclusive' election.
Clarifying why a section of JP senior leaders are joining the polls, he said the individuals can explain the reason individually. "But we think they're misled and misinformed about the party chief's decision."
On December 15, Bobby Hajjaj said Ershad is not sick rather he has been 'confined' to the Combined Military Hospital (CMH) for 'arrest'.
Source: UNBConnect