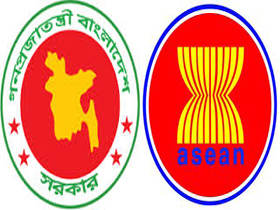 Foreign Minister AH Mahmood Ali on Thursday urged the Asean envoys stationed in Dhaka to work for the promotion of bilateral trade between Bangladesh and the Asean region with a focus on addressing the adverse trade imbalances of Bangladesh with their respective countries.
He also urged the envoys of the Asean (Association of Southeast Asian Nations) countries to consider recruiting more Bangladeshi nationals — professional, skilled and semiskilled ones –in their respective countries.
The Foreign Minister made the request when ambassadors and high commissioners of seven Asean countries — Brunei, Indonesia, Malaysia, Myanmar, the Philippines, Thailand and Vietnam — jointly met him at his office, according to a Foreign Ministry media release.
The home side at the meeting expressed satisfaction over the signing of visa waiver agreements for diplomatic and official passport-holders with seven out of 10 Asean countries, and hoped that such deals with the rest of the Asean countries will follow soon.
While expressing satisfaction at the current state of bilateral relations with Asean countries as a whole, Mahmood Ali thanked the government of Asean countries for hosting around half a million Bangladeshi workers in the region.
The envoys hoped that the cooperation between Bangladesh and their respective countries would further be strengthened and deepened for the overall prosperity of Bangladesh and the Asean region.
Earlier, the envoys congratulated the Foreign Minister on his fresh appointment, and wished him all the best in his current assignment.
The envoys also apprised Mahmood Ali of newly formed Asean Dhaka Committee.
The Foreign Minister commended their efforts in establishing the Dhaka committee, and hoped that this would help Bangladesh become a dialogue partner of Asean soon.
Source: UNBConnect