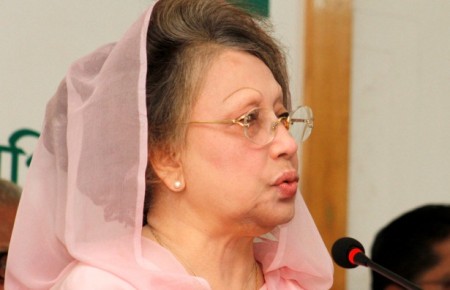 BNP chairperson Khaleda Zia has claimed the government has pushed the country on the verge of ruination.
Many BNP leaders have become victims of state-orientated abduction and killing because they raised voice against the torture and oppression of the government, the BNP chief said on Tuesday night.
She was addressing a programme of freedom fighters at her Gulshan office in the city.
"As BNP speaks against torture and oppression, many of its leaders were killed and abducted in the last few years," Khaleda said.
"The country is now undergoing a tough time. Like an octopus, they (ruling party) obstructed every ways to democratic practice. We have to overcome the situation." she added.
The BNP chief condemned the police action against the students who protested the incident of sexual assault on Dhaka University campus during Pahela Baishakh celebrations.
The government has closed all doors to restoring democracy in the country; Khaleda alleged saying that, "BNP is a political party of freedom fighters."
She also pledged to take several initiatives for the betterment of the freedom fighters if her party comes to power again.
Source: Prothom Alo