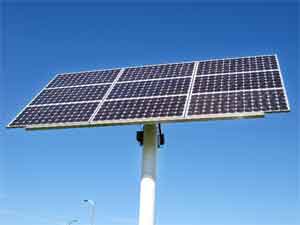 Local manufacturers of solar panels are having enough capacity to meet local requirement but they are under tremendous pressure from low quality cheaper import of the same keeping the nation dependent on import in one hand and causing damage to local industry on the other.
These imports are mainly coming from China flooding the market. Local manufacturers have therefore demanded protection from low quality imports. They said increased use of locally made solar panel will protect the industry and also help the nation to save foreign currency. This in turn will bring boost to the country's renewable energy sector industry leaders said.
They told the local media last week that the industry is fully capable of meeting the country's demand for solar panels. At present nine local companies are producing solar panels having the capacity of 80-100 megawatt of electricity generation against an annual  demand of 60 MW solar power.
So in absence of enough local market, some of these plants are exporting solar panels to countries like Nepal, UAE, Kenya, Pakistan, Malaysia, and Vietnam. But because of its huge imports, local solar panels makers are running below their capacity as cheaper imports thereby slowing down their growth.
The industry leaders said local panel producers are supplying only one-fifth of the country's total demand. The rest is being met from imports.
Munwar Misbah Moin, Managing Director of Rahimafreeoz Renewable Energy Ltd , which is a leading player in this sector told the media that local manufacturers  have invested around Tk 200 crore in solar module plants in the last four years. But their capacity utilization is at around 30 to 35 per cent or to around 18MW service capacity.
Rahimafrooz has so far exported more than $211,000 worth of solar modules to Nepal, UAE, Kenya and Pakistan. It also plans to export to Taiwan, China and European countries, he said.
Manufacturers have urged the government to discourage imports of low-grade panels and sought policy support to help protect the local industry. They said they have demanded specific and effective policies to support the country's renewable energy sector, but the government is yet to pay heed to their pleas.
They said local companies offer 20 years of warranty to clients whereas many imported panels do not provide any warranty at all, due to poor quality. Customers often suffer as many low-quality panels do not work properly after 2-3 years.
Local panel makers get zero duty benefit on import of raw materials which is the same for importers of low-quality finished panel; thereby discouraging local production. Greenfinity, one such solar firm now uses only 20 percent of its annual capacity of 10MW to supply local market while it has so exported solar panels worth $150,000 to Malaysia.
It means foreign buyers area more supporting local industry than the home Government; they said demanding a review of the entire policy regime covering solar panel production in Bangladesh.
Source: Weekly Holiday