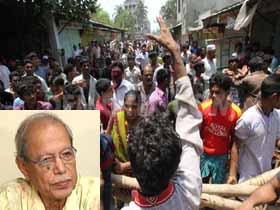 Comparing the killing of 10 people at Kurmitola Bihari camp in the city's Mirpur with medieval barbarism, President of Bikalpa Dhara Bangladesh (BDB) Prof AQM Badruddoza Chowdhury demanded the government form a judicial probe body to look into the incident.
In a statement, the former President also blamed the ruling party for the brutal killings.
"The way nine people, including children, of a family were killed in fire in a locked house is tragic and atrocious. It's outshined the medieval barbarism," he said.
The BDB chief alleged that the local ruling party MP failed to play a responsible role in handling the gruesome incident.
B Chowdhury said the proper treatment of those injured in the incident should be ensured alongside providing them with quick government assistance.
"The government should ensure harsher punishment to the perpetrators after identifying them through an impartial and judicial probe in a bid to stop the recurrence of such cruel killings in the future," he added.
The BDB president observed that had the government taken immediate action against those involved in Narayanganj and Feni murder incidents, the ruling party 'miscreants, wouldn't have dared to carry out the Mirpur incident.
"The ruling party miscreants are again raising their heads taking advantage of the slacked law and order situation. I'm bringing the issue to the Prime Minister's notice and demanding her steps to this end," he said.
Ten people, including four women and four children, were killed in a series of clashes between two groups of stranded Pakistanis at Kurmitola Bihari camp at Kalshi in the city early Saturday.
Of the 10 people, nine were burnt to death while another was shot dead during a series of clashes between the two groups over blasting crackers.
Source: UNBConnect