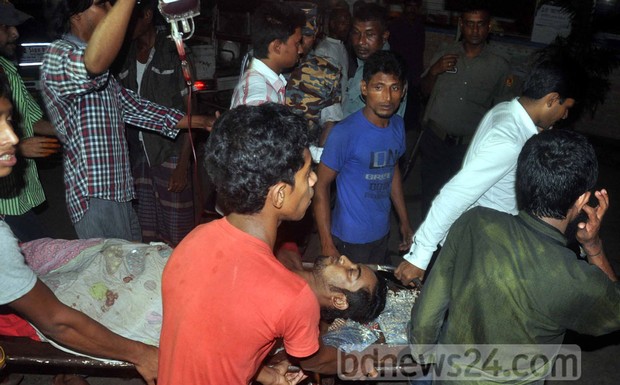 A group of unknown assailants raided a house at capital Dhaka's Moghbazar and shot dead two men and a woman on Thursday night.
Police said the shooting that took place around 7:45pm left dead the tin-shed house's owner 'Brishty' alias 'Ranu', 30, tenants 'Munna', 22, and 'Belal', 20.

Ranu's 18-year old brother 'Hridoy' has been left wounded.

Police suspect the murders were results of a dispute over possession of a land originally owned by Bangladesh Railway.

Dhaka Medical College and Hospital (DMCH) police outpost Inspector Mozammel Haque told bdnews24.com duty doctors declared the trio dead around 8:30pm after they were rushed there with bullet wounds.

Quoting relatives, he said at least 10 miscreants raided the house located at Sonalibagh's Chan Bakery Lane in the evening and started shooting.

Dhaka Metropolitan Police's Ramna Zone Senior Assistant Commissioner Shibli Noman confirmed the murders.


However, Ranu's uncle Shah Alam told reporters that local crime boss Kala Babu had been demanding Tk 200,000 from her for the past one month.

The money was not paid and that's why Kalu and his gang shot the three dead, Alam claimed.

Ranu AKA Brishty is the sister of Awami League's Maghbazar Railway unit General Secretary Kala Chan.

Locals said Kala Chan was in control of the railway land and Ranu had built tin-shed rooms there and rent them out.

Kala Babu and his men perpetrated the attacks to take control of the land, according to them.

Local Juba League unit President Abdul Khalek told bdnews24.com Kala Chan and Kala Babu had an ongoing conflict over the possession of the land.

"That is why Kala Babu and his men shot Ranu. Her little brother Hridoy was also shot," he said.

Going through the area in Chan Bakery Lane, it was found the house was at the end of a long and narrow alleyway. The windows on most homes were broken. A look of fear could be seen on the faces of residents.

There are six tin-shed houses on that piece of land, most of them rented out to people.

One tenant, 'Mahmuda', said she paid Tk 7,000 in rent to Ranu every month.

Ranu's brother-in-law Abdul Majid said seven months ago Kala Chan took possession of the land by paying Tk 75,000 to one 'Rony'.

"Later Rony's nephew Kala Babu demanded Tk 200,000 from Kala Chan. This was an ongoing dispute," he said.

Most houses in the area belong to various relatives of Kala Babu. But he does not live there himself.

After the murder, State Minister for Home Asaduzzaman Khan Kamal and senior police officials visited the place.

Kamal told reporters there was no reason to assume the law and order situation in the capital had deteriorated.

"We are trying to catch the perpetrators," he said, and urged the reporters not to engage in 'propaganda', without elaborating what he meant by that.
Source: BD news24