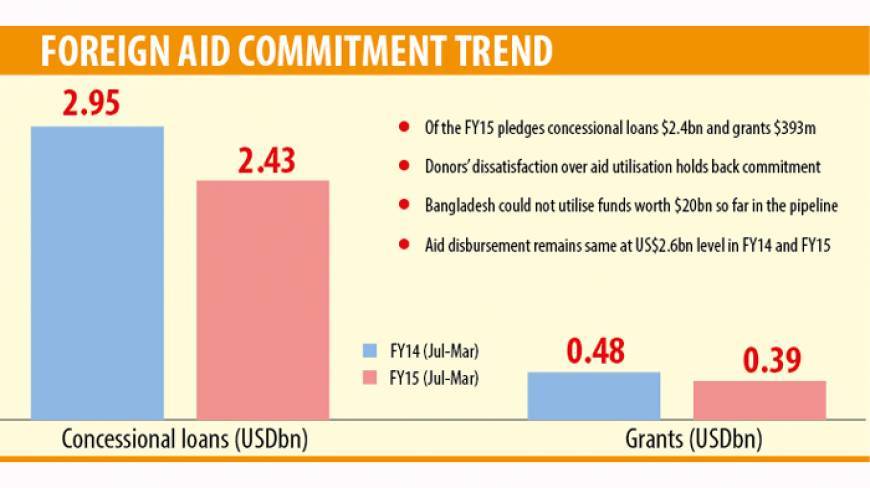 The foreign aid pledge has dropped more than 18% in the first 11 months of financial year (FY) 2014-15 as the development partners are dissatisfied over the utilisation of loans and continuing with adopting wait and see policy, officials said yesterday.
The donors committed assistance worth US$2.83bn from July through May period in FY15, down from $3.46bn in the same period of previous fiscal year, according to the Economic Relations Division (ERD) data released in the capital yesterday.
Out of entire foreign aid commitments, development partners pledged to give $2.43bn as concessional loans and $393.36m as grants. In the corresponding period of the previous year, it was $2.98bn as loans and $481.54m as grants.
During the period, foreign loan disbursement remained almost same as Bangladesh received $2.63bn in FY15, which was $2.62bn in FY14.
Of the total credit disbursement, the development partners had disbursed concessional loans worth $2.16bn and grants worth $468m.
In the corresponding period of FY14, it was $1.96bn as loans and $654.58m as grants.
In FY2015, Bangladesh has set a target of harnessing concessional loans and grants worth $3.3bn from development partners.
Among the development partners, the World Bank remained on top of the aid-disbursement list, providing $803.55m in 11 months.
It was followed by Asian Development Bank with $622.84m, Japan International Cooperation Agency $276.12m, Russia $130m, Chinese government $120.56m, Islamic Development Bank $120m and India $7m.
During the period in FY15, Bangladesh government paid back $1.02bn against the outstanding loans to the bilateral and multilateral lenders.
Out of the amount, $852.88m was paid as principal of the loans and $167.77m as interest. In the corresponding period of FY14, the government repaid $1.15bn, of which $968.53m as principal and $184.57m as interest.
Bangladesh was supposed to sign a deal valued almost $1.2bn with Japan by March last, which is yet to be done, said an official.
Moreover, the government failed to utilise funds worth more than $20bn in the pipeline, making donors reluctant to make further commitment, they said.
However, they are hopeful that the development partners will come forward and extended their support to Bangladesh's development, as the government continuously is making its utmost efforts in efficient use of fund and the political field remains calm.
Source: Dhaka Tribune