There is evidence that three persons in Bangladesh were involved with those in the US in the conspiracy to abduct Prime Minister Sheikh Hasina's son Sajeeb Ahmed Wazed Joy, the home minister has said.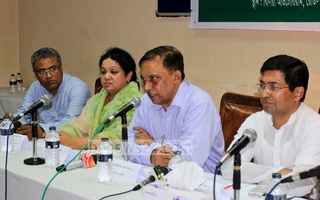 Asaduzzaman Khan Kamal made the revelation speaking to reporters on Sunday, a day after senior journalist Shafik Rehman's arrest in a case related to the plot.
The minister refuted the BNP allegation that Rehman was arrested for writing against the government.
"He has been arrested on specific charges," he said.
The case was lodged against the BNP's US unit leader Mohammad Ullah Mamun.
His son Rizve Ahmed Caesar, FBI Special Agent Robert Lustyik, and another US citizen, Johannes Thaler, have been sentenced to several terms in jail in the US over the plot.
In the verdict against Caesar, the US court said the convict had bribed Lustyik to get information to harm a 'prominent' Bangladesh national. Thaler conducted the deal.
The court said Caesar had supplied the information to 'a Bangladeshi journalist'.
Now police have arrested Rehman in the case filed over the plot with Paltan station.
The home minister said two to three persons, including Rehman, had communication with those involved in the conspiracy in the US.
"Two to three persons among those who had conversed with those (convicted in the US) had been in Bangladesh," Kamal said.
"Of them, we suspect Shafik Rehman maintains communication with them.
"That's why he has been arrested for questioning," the minister said.
About the others, he said, "You may know one of them, a newspaper editor. He is now in jail."
"You'll know when the time comes," Kamal said about the other person.
Police's counter terrorism unit chief Monirul Islam told bdnews24.com that Amar Desh acting editor Mahmudur Rahman, in jail in a number of cases over violence, will also be shown arrested in the case over the plot to abduct and murder Joy.
Source: bdnews24