As many as 1,717 online newspapers have applied for registration with the government, says Information Minister Hasanul Huq Inu.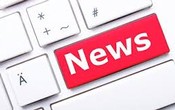 Replying a query in Parliament on Sunday, he said that the number of private TV channels approved by the government now stands at 41 while FM radio stations 28.
Inu said the number of newspapers published now is 1,086 and 32 community radio stations operate across the country.
The minister, however, said that the government does not have an exact count of online-based TV channels, radios and newspapers. "The online media policy and the registration process are intended to created accountability."
So far, 105 TV channel, 18 radios and 1,717 newspapers applied for registration as online media, Inu informed the House.Online newspapers and outlets in Bangladesh have mushroomed, but the government had no guidelines for their supervision.
It is alleged that many of these online newspapers exists only in name.
The proposed policy says not all online news outlets are maintaining the standard of the mass media and lack recognition and wherewithal to deliver appropriate content.
The policy aims at ensuring 'independence and accountability' of the media outlets and upholding their basic rights and autonomy.
It will also have provisions for determining registration, ensuring qualifications and disqualifications, and cancelling registration.
"However, the Ministry of Information will take necessary decisions in this regard until this policy or act is promulgated. This responsibility will soon fall on the Commission," reads the proposed policy.
This indicates that a commission will be formed to supervise the online media after it becomes official.
Source: bdnews24