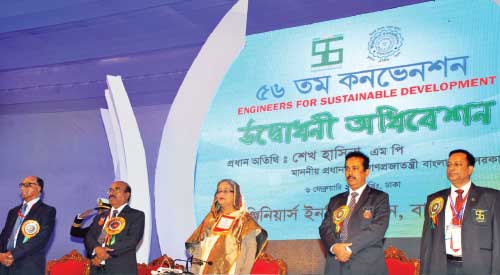 Prime minister Sheikh Hasina on Saturday asked engineers to work out a standard master plan for each upazila so that local people could avail themselves of all public services from one point.
The prime minister came up with the instruction while inaugurating the four-day 56th convention of the Institution of Engineers, Bangladesh.
The inaugural session of the convention was held at the IEB with its president engineer M Kabir Ahmed Bhuiyan in the chair. The theme of the convention is 'Engineers for Sustainable Development'.
Sheikh Hasina suggested engineers to keep a provision of water bodies or ponds before taking any plan and construction of any big structure. She stressed keeping playgrounds and walkways before constructing any big housing complex.
Prime minister Sheikh Hasina also sought all-out cooperation from engineers in attaining seven percent GDP growth this fiscal year saying that the key to development is in the hands of engineers.
'We want to attain 7 per cent GDP growth and for that we've to quickly implement the projects we've taken, and only then we'll be able to reach our target,' she said.
Hasina said her government wants to steer the country towards progress fast and it partly depends on the skills and sincerity of engineers, and quick implementation of projects.
The prime minister urged the engineers to undertake development plans in a planned way to serve the country's maximum number of people with minimum expenditures. 'When you'll formulate a plan, please make it sure it doesn't entail high cost…it should be less expensive and serve the maximum number of people.'
The prime minister mentioned that a total of 12 science and technology universities were established for the expansion of science-based education during the 1996-2001 term of her government.
Earlier, the prime minister handed over IEB Gold Medals to two eminent engineers of the country for their contributions to their respective areas.
They are vice-chancellor of Ahsan Ullah Science and Technology Professor AMM Shafiulla and former Rajuk chairman engineer Nurul Huda.
She also inaugurated a 15-storey IEB Bhaban.
Source: new age