Never has a cricket nation been so riled by the words of one commentator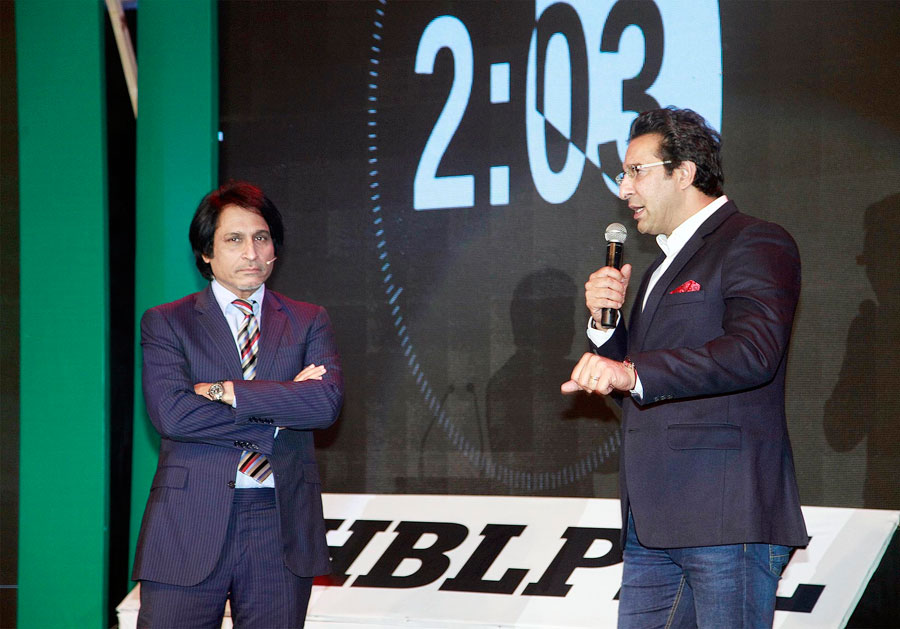 The YouTube video is titled "‪Ramiz Raza undermines Bangladesh‬." It starts with a clip from a post-match press conference where Ramiz Raja is speaking to Tamim Iqbal and then it transitions to a young man sitting in front of his computer. The young man starts talking.
"Hi guys, it is regarding about Ramiz Raja, he was taking the interview of Tamim Iqbal yesterday."
The young man is very focused, very serious, staring straight down the lens. He talks about the interview, and why it bothers him, and then says "Are you f*****g blind, or are you not watching? I don't know, I don't understand, do you have an issue with Bangladesh, or are you just jealous about Bangladesh? Stop doing it, mate. Don't be f*****g daft, don't be f*****g blind, mate. Stop doing it."
Then he disappears and Dr Dre's "The Next Episode" starts playing.
****
There is no cricket fan who doesn't get frustrated at cricket commentators. We spend so much time with them, and it's impossible to like all of them. It might be their voice, their intonation, their accent, their words, their phraseology, their outlook, their biases, their alleged biases, their knowledge, their playing style, their tweeting style, to name but a fraction of the reasons.
There is also the quality of cricket commentary. It would he hard to suggest we are in a golden age, or even a bronze age. At best, it's a beige age. Cricket broadcasters don't scour the globe looking for the best and the brightest; they hire ex-players who are famous and put them in front of a microphone. The very, very worst usually don't survive. The very best become household names.
Most fall in the middle ground. They wait anxiously for the call from producers around the world. They have to satisfy production companies, broadcasters, and ever increasingly, cricket boards. It means that they have to be safe, middling by nature. They are often booked at the last minute, they are well compensated, but unless they have a lucrative home board contract, chances are they don't feel secure.
As many are ex-players, they do not do the kind of research a broadcast professional or journalist would, or at least should, do. Off air they often say things like, "I know cricket, so I don't have to follow it." Increasingly they are listened to by knowledgeable fans who often know more about the player than the commentator. The frustration brims as the commentator says something wrong. And now with Twitter, there are instant and constant corrections.
It is a hard job, often done poorly.
But most people just don't take commentators that seriously. They have become the background noise of cricket, rather than the voice of god they once were. There are now also more options to listen to. White Line Wireless and Guerilla Cricket ofter alternative commentary. There is also usually a radio or tune-in broadcast that you can sync with your TV. Chances are, cricket will never have another John Arlott or Richie Benaud as the game's voice.
So with all that, imagine that one commentator was so hated that news stations rerun his commentary to highlight how bad he is, that cricket journalists pen open letters about his behaviour and people burn effigies of him in the street.
Now imagine this man is the well-coiffed slick package of Ramiz Raja. For most cricket fans, a harmless commentator who can occasionally gaffe. To Bangladeshis, the enemy.
****
"We dont want Ramiz Raza as a commentator during Bangladesh match in Worldcup Cricket 2015" says the title of the petition. They wanted 1000 people to sign, but ended with only 352. Though not having it also in Bengali might have limited its reach. One of the comments, from 'Name not displayed', says, "His comments is hurting so many peoples hearts".
If it were just fans, it would be one thing; it is far more than that. An open letter was written by Azad Majumder, the sports editor of the Daily New Age in Bangladesh, for the cricket website Cricwizz. His letter lists what are essentially the main concerns of Bangladesh fans. "I know you are not a great fan of the Bangladesh cricket team," says Majumder. "For years you have ridiculed Bangladeshi players knowingly or unknowingly." He then goes on to mention the Afghanistan-Bangladesh game of the 2015 World Cup.
And this is an important game. It was the first time Afghanistan ever made it to the World Cup. They were rightly feted for making it, and for existing in the first place. Almost everyone who watched that game as a neutral wanted Afghanistan to win. It was a party in their honour. Ramiz was probably no different. Majumder writes, "From the very beginning of match, you, as a commentator, tried to give an impression that Bangladesh were scared of facing Afghanistan." This was a game Majumder was at, so he, by his own admission, heard about Ramiz's crimes largely through social media. But the previous game between these teams Afghanistan had won.
This meant that many thought Afghanistan had a chance of winning the match. No one saw Afghanistan as a favourite, but they saw them as a danger side. That is not how Bangladesh fans saw it, and they saw it even less like that when Ramiz spoke. The idea that their team could be afraid of Afghanistan was a personal affront.
Bangladesh fans have always been very excited and very passionate, but for years they were simply not heard, or not noticed. Now they are winning more, and with Photoshop skills this good, they are upsetting people around the world
Recently at the first PSL, Ramiz made an error in suggesting Lendl Simmons had won Man of the Match in a game, where the honour actually went to Shakib Al Hasan. Which might sound like nothing, but then a few days later, something else happened.
As Majumder explains, "When Tamim Iqbal came to collect his Man-of-the-Match award, you told him, 'Tamim: I can't speak your language. What then? English?' It was unbecoming of a man of your stature who has been involved in commentary for years."
Now if you are not Asian, or well versed in Asian culture, you need to understand what suggesting someone may not speak English means – it means they are not cultured, they are not educated.
According to Ramiz, "That was a very polite introduction to his Man of the Match award conversation – it was [about] whether he was comfortable, because I couldn't speak Bengali, and I knew he wouldn't be comfortable speaking Pashto, because he was playing for Peshawar. So would English be a good medium?" That might have been what Ramiz thought it was, but to Bangladeshis, who in part separated from Pakistan over their language, it was seen as a sly dig.
You also have to understand how cricket productions work. They are not always completely professional. In this case, no one had checked with Tamim what language he wanted to speak. There were four languages involved: Pashto, Urdu, Bengali and English. To complicate matters further, when the Bangladesh women's team toured Pakistan and India, they were told not to talk in Hindi or Urdu.
Perhaps it should have been sorted before, perhaps Ramiz should know what languages Tamim speaks after all these years of his career and as he had actually interviewed him before. As Majumder wrote:
"It was your duty to do your homework and you get paid for this. Tamim Iqbal is one of the few cricketers in Bangladesh who speaks very good English. He has been playing international cricket for nearly a decade. You, being a commentator, following the Bangladesh team over many matches, should have known this. Or you should not have taken the microphone."
Now he has a point, but also, if we were to stop using cricket commentators for what they should know, Channel Nine would have a commentary team of about two people, and a huge percentage of the most famous ex-players in the world would be out of work.
The next video that autoplays after the scary sweary young Bangladeshi's message for Ramiz is titled, '‪Ramiz Raja mocks Shoaib Malik‬'. In that video, Malik walks up to get his cheque for Man of the Match and Ramiz's first question is, "Urdu or English?"
****
"All my life it was a given that we were supposed to beat Bangladesh, and we did beat them. The record tells you the story. You are supposed to be best in Asia at one time, and suddenly you are getting thrashed by a team that is lowly ranked" says Ramiz aboutthe series where Bangladesh beat Pakistan in three ODIs and one T20.
"So it was as simple as that, and it's gotta be a low point when you get beaten by Bangladesh".
The problem with this is, it doesn't see how much Bangladesh has grown, and how much their fans don't want to be seen as a low point for another side. That is the Bangladesh of five years ago, ten years ago, the easy beats. Not the Bangladesh of now, the very well put together ODI side who are building a fortress at home, quarter-finalists in the World cup, should have beaten India at home. They are many things, but no longer a low point.
During that series when Shakib Al Hasan and Wahab Riaz stood toe to toe and abused each other, BDcricketteam.com reported this: "[Ramiz] said sarcastically that such a day had to come when Bangladesh players were looking eye to eye with Pakistani players". Whether it was sarcastic or not, the thought that Shakib, Tamim or Mashrafe Mortaza were not able to look Pakistani players in the eye angered some in Bangladesh.
And remember this is Ramiz talking about Pakistan. His team, that he is passionate for. He is upset about where they are going as a team, why they are failing, and even mentioning that they could learn from Bangladesh. But that is not enough to distinguish from his anger that his team cannot beat Bangladesh, and that is what angers them.
Bangladesh was once part of Pakistan. When New Zealand won their first Test series ever, it was in Dhaka. They fought a war in 1971. Blood was spilt, the countries were divided. Since then, Pakistan has always been the better-known country. It has a bigger economy, and in cricket they have won the World Cup and the World T20. For most of their existence in cricket, Bangladesh have either not even been a Test nation or been the Test nation people ignore.
So when a Pakistani commentator disses them, or is seen to diss them, or even speaks in a way that could be misinterpreted as dissing them, all that history, all that angst, all those wronged-little-brother feelings come out.
When asked about the history behind the hate of him, Ramiz said, "It could be for political reasons, it could be that I am perceived differently in Bangladesh, it could be that their fans do need to calm down a little bit." Ramiz might be right there, but suggesting that they calm down a bit would also upset them.
Although at this stage, everything he says upsets them. They don't want to calm down, they want to be heard. And the way he talks about them, with the slight patronising air of a man from a larger cricket nation (not much different to the way that many Australian players of a certain age talk about New Zealand) just makes them want to yell longer. Louder.
Ramiz is pretty blunt when it comes down to it, "If you are hell-bent on interpreting a very innocent remark like this, then I can't do anything about it. And god save them."
****
Mustafizur Rahman is on a billboard. In his hand is a Stanley knife. Below him are six Indian players, all with their heads half-shaven. The six batsmen whose wickets he had taken. It might seem like silly Photoshopping, but Indian fans were very upset at the image when it started appearing online.
Bangladesh do things differently, and partly that is because they are treated differently. Within Bangladesh cricket there is a feeling that people in the game want to keep Bangladesh down
Bangladesh fans have always been very excited and very passionate, but for years they were simply not heard, or not noticed. Now they are winning more, and with Photoshop skills this good, they are upsetting people around the world.
Ramiz sees this kind of behaviour as part of the Bangladesh fans' journey, "They need to grow up as a fan. They will eventually get better at it, because it's a new-found power that comes with winning, and they've been at the receiving end for such a long time, I think now they feel that it's our time to dominate and dictate. It happened with Pakistan, it happened with India, because once you get used to this new-found power, then the fans also relax a little. For now they so want to dominate the Asian canvas, or the world cricket canvas, that they just lose the plot completely."
There will be some in Bangladesh who only see him say, "they need to grow up".
****
A Facebook post started going viral during the India v Pakistan game in this World T20, and oddly, it had nothing to do with either side. It was about Taskin Ahmed's bowling action. A lawyer for the BCB had released a detailed response about why he thought the Bangladesh bowler had been persecuted, and how he and the BCB would proceed in their case. It was a very smartly written analysis of the situation, and it showed that the BCB clearly have a quality lawyer on their side.
But he put it on Facebook. What other lawyer would release private information about his work with a cricket board on Facebook, in a public post?
Bangladesh do things differently, and partly that is because they are treated differently. It has been 18 years since Bangladesh last played in India outside an ICC event. It has been six years since England played Tests against Bangladesh. And Jason Gillespie made a double-century in the last Test series Bangladesh played against Australia.
Within Bangladesh cricket there is a feeling that people in the game want to keep Bangladesh down. When Mustafa Kamal was the BCB chairman and ICC president (a job that had been watered down by the ICC takeover), he ended up quitting, after he questioned the umpiring in the quarter-final of the 2015 World Cup against India. In his words, "I was supposed to present the trophy to the winners after the Melbourne final. But I couldn't do that. People with ugly mindset had no business running the ICC. I'm just sending my resignation to the ICC, for I was not allowed to work in line with the ICC constitution."
That was the last tournament; this tournament, two of their bowlers were reported for chucking. It is certainly something you wouldn't expect to happen to players from the Big Three nations. Before the World Cup it was Sri Lanka, West Indies and Pakistan who were hit by a similar thing.
So is there a conspiracy to keep Bangladesh in their place? No, because simply put, the major teams don't care or even notice Bangladesh exists. Is there a system in place for cricket to protect the haves and hurt the have-nots? Yes, that is how modern cricket is run. That is not a Bangladesh thing any more than it is a Sri Lanka thing or a Scotland thing.
As Ramiz says, "It can't be a conspiracy all the time." It's that cricket is not a fair playing field. It's not even trying to be one. India and Australia played in the last group game of this tournament. Instead of it being run concurrently with another game in that group. Had it not been a straight shootout, they would have known exactly what they needed to do to qualify ahead of Pakistan and Bangladesh on net run rate. That is simply not fair.
On top of that, all the major tournaments that are scheduled are scheduled in these three countries. It is even the BCCI curator – thanks to an injury to the ICC curator – overseeing the ICC pitches for this tournament. They also gave themselves all the money, despite the fact they already made more money than anyone else.
This isn't about Bangladesh, this is about cricket. But to Bangladesh, an emerging nation putting itself on the map, trying to make a name through a shared passion, it is about Bangladesh. And that is partly where their anger comes from.
****
"My name is 'Rubbish Raja,'" says the text next to a pig, or donkey, or some kind of beast that has been carefully drawn. It goes on: "Talk rubbish… eat rubbish… and s*** rubbish. Ba… Ba…Ba…" There are two piles of dung, one at either end of the animal. Instead of an animal's head, it has the unmistakable head, nose, chin and beautiful hair of Ramiz Raja. The image is all over social media.
If Bangladesh were a world-beater, they simply wouldn't care about Ramiz Raja. Sure, they might be upset at one or two comments, but they wouldn't obsess like this. But they aren't, and they think they are fighting for their nation's pride
Recently Ramiz said to the Prothom Alo newspaper of Bangladesh: "If I have anything for Bangladesh cricket, that is love." But pictures speak louder than words.
****
The Dhaka Tribune's article starts, "Former Pakistan captain Ramiz Raja's criticism of Bangladesh cricket and its players has irked the Bangladesh fans a great deal. Visibly not a fan of Bangladesh cricket, Ramiz's latest round of criticism though is no surprise given his history of dishing out offensive comments."
The photos they ran with that piece were of Bangladeshis burning effigies of Ramiz Raja.
It went on: "The former skipper also made ill comments regarding the traffic system of Bangladesh." But the first comment on the piece said:
"All of these issues regarding Rameez Raja started after a tabloid online 'news' outlet in Bangladesh took Harsha Bhogle's harmless anecdotes about Bangladesh and Saurav Ganguly's jesting about Dhaka Traffic and pinned them on Rameez Raja. Not only are the comments of Bhogle and Ganguly totally accurate, harmless and in jest, but they have been used to demonize Rameez Raja who had nothing to do with it."
There are many comments on that piece saying things like, "Idiots, it was Saurav Ganguly who talked about Bangladesh traffic, not Ramiz" and "I am not take side and I personally don't like Raja but this is utter rubbish." The piece is still online, and unedited.
For what it's worth, Ramiz says, "Frankly speaking I don't care what's written about me in Bangladesh, or how they feel about what I say, because it's a jaundiced view."
****
Bangladesh fans have been consumed with the chucking controversy in this World T20, but they have also been disappointed. With their form in the Asia Cup, their team well suited to these conditions, the best batting line-up they have ever had and a mystery bowler, they would have expected to at least been pushing for the semi-finals.
Against Pakistan they bowled poorly, and somehow managed to allow Pakistan to score over 200 runs. Something Pakistan never even flirted with doing again. Against Australia they played well and kept it close, but despite Australia being seven wickets down, it felt like Bangladesh let them off the hook at times. Against India, well, against India, you know. Wow. How can you be drawing pictures, making Photoshops or uploading angry YouTube videos after that? Bangladesh did what most fan bases would do after that. Stayed very still and hoped it would go away.
By the time they got to New Zealand, their dream of playing in a semi-final was a punchline about how they couldn't score two runs off three balls. This might have been the best team Bangladesh has ever had, but in the main part of the tournament it still read 0-4.
Not even Ramiz could be blamed for that.
****
Over the last couple of years there has been no one in cricket who hasn't suffered at the hands of an angry Bangladesh fan for a slight, real or imagined. As they have changed from a team of toygers to a team of tigers, their fans have done much the same.
This is not all of them but it is a lot of them, and they are supported by many in the media. They are sick and tired of being ignored, sick and tired of being patronised, sick and tired of being abused. So they are fighting back.
And no one is copping it more than Ramiz. "It is a new-found rhythm of winning, and they think that they can roll over anybody, and I think they've misunderstood me completely. I think they need to understand themselves also, because even though their team has picked up dramatically, I think the fans are thinking that the team has become a world-beater, which is sadly not the case right now."
There was a game recently where a Bangladesh woman in the ground was watching her team lose. She was very unhappy, leaning her head to the side, and not far from tears. Ramiz was on commentary. The camera panned to her and he has a chuckle. It is the kind of thing commentators do when they see a distraught fan. The YouTube video – uploaded by a Pakistani source, in this instance – is called "‪Ramiz Raja Laughing On Condition Of Bangladeshi Supporter.‬" As if she wasn't just bummed her side was losing, and was actually bleeding out, while the disrespectful Bangladeshi-hating Ramiz stroked a white cat and cackled like a hyena. Even when fellow Pakistanis upload something, he's made out to be the villainous commentator.
But when it comes to Bangladesh, Ramiz is not seen as a commentator by many. He is an enemy combatant in the way of their march to glory.
If Bangladesh were a world-beater, they simply wouldn't care about Ramiz Raja, or any commentator for that matter. Sure, they might be upset at one or two comments, but they wouldn't obsess like this. But they aren't, and they think they are fighting, on and off the field, for their nation's pride.
This is about glory for Bangladesh. Their team is them, it is their national pride, it is everything to them.
So if Ramiz's career as a commentator has to be a casualty, then many in Bangladesh will not shed a tear. That is something small. The big thing is Bangladesh must be victorious. Glory to Bangladesh is all that matters.