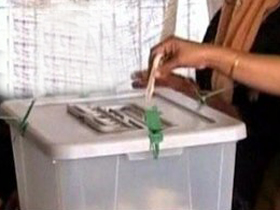 Voting for the country's general election 2014 started at 8 am on Sunday amid foolproof security in which the people of 147 constituencies will elect their representatives.
The much-talked-about 10th national election began amid the opposition's boycott and widespread arson attacks across the country that left about 100 polling stations damaged and two people, including an assistant presiding officer in Thakurgaon, dead on Saturday.
The polling will be held in 147 parliamentary constituencies out of 300. It will continue till 4pm without any break.
The opposition alliance is boycotting the election as its demand for a non-partisan interim-government to oversee the election has gone unheeded.
In its last-ditch efforts to stop the election, the BNP-led 18-party alliance enforced non-stop blockade and 48-hour hartal programmes across the country.
Over 130 people have been killed across the country in election-related violence across the country since the Election Commission announced the election schedule on November 25.
All the efforts by the international community and the civil society members to convince the government to hold an inclusive election has gone in vain as the current regime and the Election Commission are saying that the election has to be held by January 24 for maintaining the constitutional process.
Meanwhile, opposition leader Khaleda Zia and her son and BNP senior vice chairman Tarique Rahman in their separate messages urged the voters to boycott the 'unilateral' polls, while Prime Minister Sheikh Hasina in her address to the nation on Thursday said this election will create an opportunity for people to form a 'government of their choice'.
A total of 4,39,38938 voters out of the country's 9,19,65,977 will be able to exercise their franchises to choose the representatives of the 147 constituencies from 380 candidates.
Out of 40 registered political parties, 12 parties are contesting the election
Source: UNBConnect