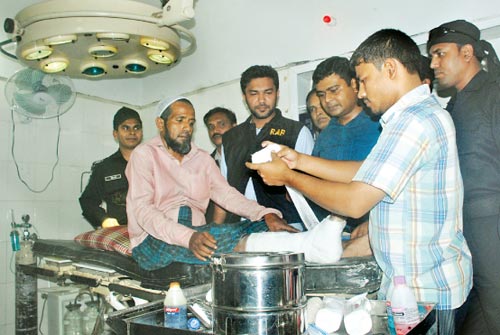 Amid allegations that unauthorised and poorly equipped private hospitals, clinics, nursing homes and diagnostic centres have mushroomed in Dhaka and elsewhere providing wrong treatment, a private hospital in the city was found to have conducted orthopaedic operation by 'fake' physicians, nurses and technicians.
A mobile court launched by Rapid Action Battalion-2 led by executive magistrate AHM Anwar Pasha on Saturday found that a private hospital, Shahjalal General Hospital, at Agargaon in the city was being run by 'fake' doctors in dirty environment and having almost no equipment.
The court awarded different jail terms to six persons – three fake doctors each having passed their Higher Secondary School Certificate examinations, one fake nurse having passed Secondary School Certificate examination and two fake technicians having no degree at all – for being involved in operating on patients at the unauthorised hospital.
A top official of Directorate General of Health Services, preferring anonymity, said the capital has 465 licensed private clinics and hospitals and 1,305 laboratories and diagnostic centres while the unauthorised ones might be double in number.
He also said that the private hospitals often bring patients from different government hospitals through their brokers. The DGHS deputy director (hospital) Swapan Kumar Tapadar, however, said they were working on detecting unlicensed private clinics, hospitals, nursing homes and diagnostic centers and the DGHS would soon launch drives to close such unauthorised hospitals.
'I alone conducted drives this year in Dhaka and elsewhere in the country and jailed and fined more than 100 fake doctors, nurses and technicians besides sealing off a number of unauthorised private hospitals and clinics,' Anwar Pasha told New Age.
Pasha on Saturday found that Shahjalal General Hospital had no government approval and that all the eight patients admitted there were brought from different government hospitals, mostly from the National Institute of Traumatology and Orthopaedic Rehabilitation, through brokers. The court sealed the hospital and handed down two years in prison to each of its three fake doctors – Md Masum Mridha, 28, Sujan Das, 32 and Sumon Paul, 24, and fined them Tk 1 lakh each, in default to serve three more months in jail. Masum was their main 'physician' while Sujon was the owner of the 'hospital.'
It also awarded each of the three others – the 'nurse' Mitu Jaydhor and 'technicians' – Pankaj Chandra, 21, and Subrata Bala, 19, – six months in jail and fined them Tk 1 lakh each, in default to serve three more months in jail. During the RAB raid, Sujan and Sumon, both in lungis and T-shirts, had been plastering the broken leg of 28-year-old Fazlul Haque, a decoration worker at Agargaon, after an operation.
'I was brought here by some brokers from NITORE nine days ago. Masum saw me, plastered my leg and gave me prescription. I am still having severe pain in the leg,' Fazlul told New Age. Arifa Begum, the owner of the five-storied building where the hospital was housed, said the hospital had been running for three years in a four-room flat on the ground floor and there was no deed on renting out the rooms.
Earlier on December 1, the government ordered suspension of operations of Mohona Hospital on Green Road in the city for running without licence. The hospital allegedly declined to provide treatment to senior journalist Zaglul Ahmed Chowdhury after he was fatally injured in a road accident that led to his death on November 29.
Separate mobile courts of RAB in July and September this year sentenced five fake dentists – Illias Hossain of Garden Dental Care, Hasanur Rahman and Md Akhter Hossain of Al-Madina Dental Care, Tofazzal Hossain of Al-Hera Dental Care and Alauddin Hossain of Zannat Dental Care at Karwan Super Market and a fake physician Mokhlesur Rahman, 45, at West Rampura in the capital to jail terms ranging from one year to two years.
On April 16, a High Court bench issued a ruling asking the government why it should not be directed to form a high-powered monitoring cell to check how different government and private hospitals, clinics, nursing homes, diagnostic centres and laboratories were running and why the government should not be directed to halt operations of unauthorised private hospitals, clinics, nursing homes and diagnostic centres across the country.
Source: http://newagebd.net/74328/unauthorised-hospitals-mushroom-in-city/#sthash.PVUYHTNR.dpuf